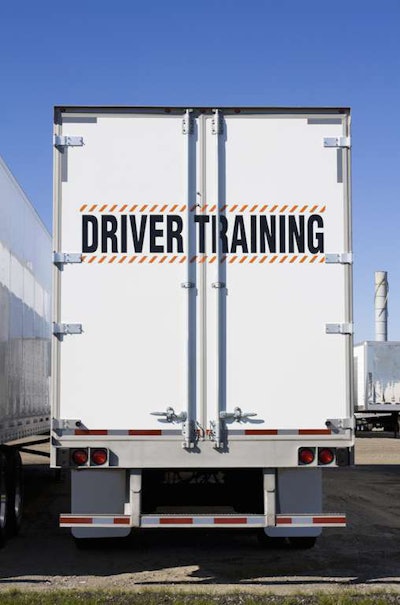 The Owner-Operator Independent Drivers Association announced this week the two main items it is pushing Congress to include in its next highway bill: Bolstering training for new drivers and reforming the federal trucking regulatory process.
The current MAP-21 bill expires Sept. 30, and Congress must pass either an extension of that law or create a new bill to ensure highway and infrastructure funding.
OOIDA has dubbed its two initiatives Truckers for Safety and Fixing FMCSA. With the former, OOIDA is proposing that the Federal Motor Carrier Safety Administration produce certification requirements for driver trainers and that new drivers be trained by an instructor who meets those requirements.
CDL candidates "will learn the basics of safe tractor-trailer operations, including how to operate the vehicle to maximize fuel efficiency, while also learning firsthand about compliance with the safety regulations, says information from OOIDA's new truckersforsafety.com website dedicated to the issue. All of this would happen prior to a CDL test.
OOIDA in its materials derides "CDL mills," who they say simply train drivers to pass a test, rather than teaching "what [drivers] will need to know as a truck driver."
The association, in addition to pushing for inclusion in the highway bill, has also suggested an independent bill that could tackle the issue: The Safe, Mentored and Responsibly Trained Future Truck Drivers Act.
More information will be posted on its FightingforTruckers.com site next week about its ideas for reforming FMCSA's rulemaking processes, OOIDA says, but information on the site now says the next highway bill gives Congress the chance to "advance meaningful reforms to ensure that FMCSA conduct more outreach and greater evaluations to ensure they consider the full realities of trucking, especially from small carriers."
OOIDA also suggests that Congress require a new independent review process of the agency's regulations to deem what works in reducing crashes and what doesn't.
FMCSA's Motor Carrier Safety Advisory Committee met in February to determine recommendations FMCSA should advance for the next highway bill. Chief among them were tougher standards for new carriers, parking improvements, attention to the issue of detention and other driver pay reforms. Click here to see OD coverage of the MCSAC recommendations.
Click here to see some of the key highway funding proposals or ideas discussed so far.
Both Sen. Barbara Boxer (D-Calif.), chair of the Senate's transportation committee, and Rep. Bill Shuster (R-Pa.), chair of the House's transportation committee, have said they expect highway reauthorization bills to be marked up in each chamber this month.