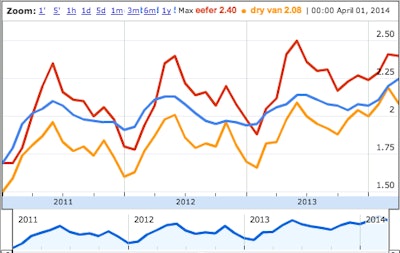 Flatbed rates soared again in April, likely due to a rebounding construction market that saw an increase in activity as weather warmed in the month and leading the way in April rate activity.
The per-mile spot market rate for flatbed rose another 5 cents in the month to $2.25, according to data released this week by Internet Truckstop, setting an all-time high for the second straight month. Flatbed rates in April were 19 cents higher than the same month in 2013 and 14 cents higher than February 2012.
Rates in all three segments surged in both February and March, leading to record rates in both flatbed and dry van.
In April, however, reefer rates fell a penny and dry van rates fell more than a dime, but both still are strong, especially compared to recent years.
Reefer rates in April were $2.40, down a penny from March, but still up 28 cents from April 2013. Rates in the segment also are still in record territory, as March's rates were the highest since last June — the month when reefer saw its all-time high.
Dry van rates in April fell 11 cents from March to $2.08. Despite the drop, dry van rates still posted their third-best all-time number. This is also the fifth consecutive month rates in the segment were above the $2 mark — a threshold it only bested for the first time in June 2012 and only topped three months in 2013, with one of them being December.
Rate increases are expected this year due to an uptick in freight and tightened capacity caused by the regulatory environment.