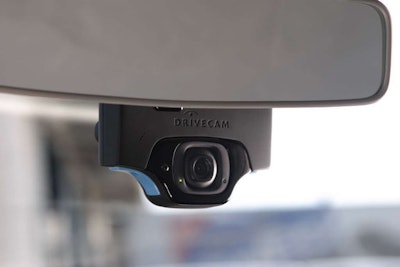 Lytx (formerly DriveCam, Inc.), makers of a forward- and driver-facing video camera system for fleets and consumers, is touting results of a company-commissioned analysis conducted by the Virginia Tech Transportation Institute that shows use of the system could potentially reduce commercial motor vehicle crashes by as much as a third annually. Fatality reductions, the study concludes, might be on the order of 801 avoided, or 20 percent of fatalities resulting from truck crashes averaged over years 2010-12.
The study follows a Federal Motor Carrier Safety Administration-sponsored VTTI on-road experiment conducted in 2009 that measured results from two fleets utilizing the DriveCam system, which concluded that use of the system reduced by 75.5 percent the occurrence of "severe safety-related events," in the language of the report — think very-hard braking, abrupt swerves and the like, says Del Lisk, Lytx Vice President for Safety Services.
DriveCam-type systems were recommended by a small minority of members of FMCSA's Motor Carrier Safety Advisory Committee at the February 2014 meeting to be considered for unspecified potential regulation — some members suggested requiring widespread use.
Lisk, asked whether the new VTTI analysis presaged a lobbying effort to require the devices, insists on the contrary. "If we're active in any form of [lobbying], we're in the opposite direction," he says. Improving safety by using a video technology is not as "simple as slamming a camera in a vehicle and everybody would get better."
All the same, Lisk believes driver acceptance of the technology as a training tool is gaining ground — a pilot test of DriveCam use at a driver-training school is working to get those new drivers accustomed to the technology. "The instructor has a button that can trigger a manual event," he says, the system recording the eight seconds prior to the event and the four seconds afterward, just as the system works on the road when triggered by a change in force or other safety-critical event.
The instructor then can go over what the driver did with video of on-road actions. With "the ability to see what they did," Lisk adds, "they're improving faster."
And when said drivers move on to work for "a client with that technology," Lisk says, they're more accepting of it than many drivers the company encounters resistance from today. "There's a natural hesitation to put video inside the cab of the truck," he adds. "It's change, but independent studies like this help people to understand the value this can bring."
DriveCam has not gone to market to independent owner-operators and very-small fleets, as a general rule, says Lisk, but he sees potential value there in two areas: 1) "If an accident occurs, more likely than not it's not the driver's fault, but they'll often get blamed. The video is a really powerful tool to protect against false accusations." 2) "Even the best owner-operator can become a better driver – in that application it'd be a self-coaching tool." After a close call on the road, "they can go online [to see the 12-second video captured] and learn from it."
A single-truck fleet version of the system, he says, might more closely resemble the pricing structure and model of the company's consumer solution, with a $40-$50 per month subscription cost for use.