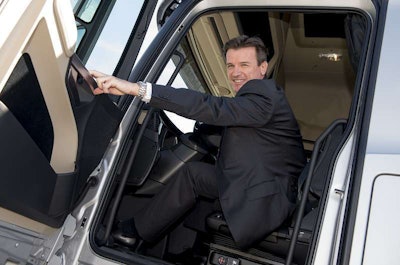 Daimler Trucks North America has filed an application of exemption with the Federal Motor Carrier Safety Administration asking it to waive the requirement that Daimler Trucks' global head Wolfgang Bernhard be required to obtain a U.S. commercial driver's license to test drive the company's trucks in the U.S.
Bernhard holds a German CDL, Daimler says in its application, and will be test driving Daimler trucks in the U.S. to "support Daimler field tests designed to meet future vehicle safety and environmental requirements and to promote technological advancements in vehicle safety systems and emissions reductions," according to FMCSA's application notice.
FMCSA granted a similar exemption to the company in May 2012 for two of its test drivers. Both had valid German CDLs, and the agency says it determined the process for obtaining a CDL in Germany is "as effective as" the U.S. process and requirements.
Daimler has requested a two-year exemption for Bernhard and says that a U.S. CDL holder will accompany him on all trips.
Per the application, "Bernhard will typically drive for no more than 6 hours per day for two consecutive days, and that 10 percent of the test driving will be on two-lane state highways, while 90 percent will be on interstate highways." He'll run about 400 miles in a two-day period about once per quarter, Dailmer adds.
FMCSA is accepting public comment on the application until Aug. 1: Click here to submit a comment.