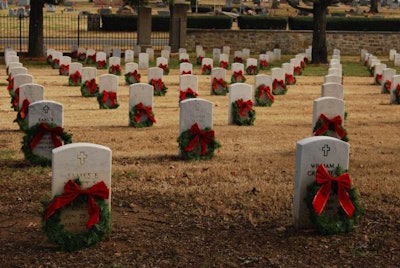 Wreaths Across America said Aug. 22 at the Great American Trucking Show that its goal for this year's annual wreath laying memorial ceremony is to gain enough support to be able to lay a wreath at every marker at Arlington National Cemetery.
WAA head Morrel Worcester said his group's partnership with trucking companies helps makes possible not only the large annual year-over-year increases in wreath layings, but also the program itself.
WAA currently has 88 trucking company partners who move loads of wreaths across the country and to Arlington free of charge. Last year, 141 loads of wreaths were transported to cemeteries nationwide, with 41 of them dedicated to Arlington.
Worcester says they're looking to have over 200 loads of wreaths delivered this year. Arlington has about 240,000 markers, said WAA's Wayne Hanson, and last year the group was able to lay 143,000 wreaths there, of the 540,000 total. WAA says its pushing for more donations and more sponsors to make its goal possible.
Trucking also participates — and can help WAA acchieve its goal — via the Patriot Pair program, in which truckers for $30 can purchase two wreaths, one to place on their truck's grill and one that gets sent to Arlington.
The truckers then place the wreath on their grill at a veteran's grave at a local cemetery.
Click here to see the Patriot Pair program site. $5 of each purchasse also goes to the Truckload Carrier's Association's trucking image campaign.