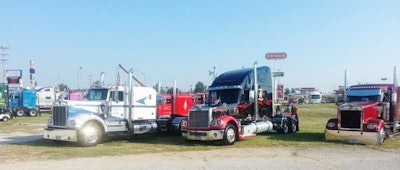 We lost our minds and entered The Precious in the Guilty by Association show (that's "Lucky #173 in the middle above).
This is our first year at the show — Bryan Martin has invited us the past couple of years, and we never were able to get to Joplin for it. But this year we made a special point to take a load to Springfield, so we could be close.
I'm going to take a minute here to thank the Martin family for doing such a great job. Bryan and Bryce have been busier than one-armed paper hangers, and yet they both take the time to stop and personally talk to anyone who approaches them, or has questions. They really are concerned that everyone here feels like a member of the Joplin family, and we really do.
Bryan suggested we register the truck for the show. Now, you all know I think Precious is the most beautiful truck on the road, but she's definitely not a show truck. She's a worker that happens to have a really cool paint job. I have attempted to polish the tanks exactly once, and I gave up in tears after about three hours of scrubbing and wiping without one single sparkle. I had no idea there came a time in the life of chrome that it had to be cut by a machine before it would polish back up. Our tanks are definitely at that point in their life, and I have the sore back to prove it.
After a few minutes of back and forth, George signed her up — we were feeling pretty good about it, because this is a working truck show. The motto here is "wash it and park it," and that's just what we did.
Needless to say, there are so many damn fine-looking working trucks out here. Also, putting your truck in a show is a lot like entering your baby in a beauty contest. You sit and listen to other people picking out their flaws and want to punch them in the face, because your baby is the prettiest baby on the planet in your eyes, and anyone who doesn't think so is obviously lacking in some kind of sense of reason.
We probably won't win anything, but it's a learning experience and an exercise in patience for me. I'm OK with the disparaging comments — the meanest ones usually come from people who don't have a truck at all, so there's that. I do know this, we've got family in Joplin now, and that's the biggest win of all.