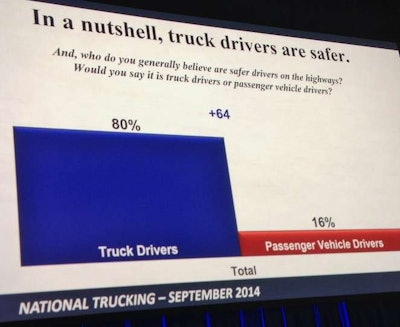 "What do Sally Field and truckers have in common — besides Smokey and the Bandit, that is?" So asks Overdrive Senior Editor Kevin Jones on the website of sister publication CCJ.
The answer might well surprise you, given the run of bad press the industry and some of its drivers have been receiving of late. As Jones put it, borrowing from Field's Academy Awards speech: "People like them both – and you can't deny the fact they like them!"
Jones reported on results of an in-depth survey of public opinion of the trucking industry and its drivers commissioned by the American Trucking Associations that concluded, as shown above, that 8 in 10 of Americans viewed professional truck drivers as safer than those with whom they share the road.
Other findings
**Just 7 percent of respondents believe truck drivers are more likely than passenger vehicle drivers to drive unsafely
**90 percent of respondents believe passenger vehicle drivers are more likely to speed than truck drivers; and
**74 percent of respondents think in accidents involving a car and a truck, the passenger vehicle driver is at fault.