People are always amazed when I tell them I actually sleep better in the truck than I do at home. I know George gets better rest, but I think it has a lot to do with him being absolutely exhausted when he hits the rack in the truck. It could also have to do with the fact that our house is never actually quiet. More on that later.
I know it's hard for people who have never slept in a truck to believe, but when we're idling, the noise-canceling abilities of a purring Detroit Series 60 are like a lullaby. Combine that with the blackout curtains and a little A/C and voila – instant snooze. It's lovely. If you have insomnia, I highly recommend it, though I doubt an insurance company will pay for a Freightliner as sleep therapy. (Holy crap, I'm totally talking to Doctor Gonzo about this.)
I don't think George slept a full night the five days he was on home time. A lot of this has to do with our ancient dogs. We've lived here six years, and the railroad had run close by every single day and night without the dogs noticing the horns until about six months ago. For some unknown reason, our Chessie has decided he's going to sing along with the train whistles, but only in the middle of the night. It's bizarre for so many reasons, and so hard to get mad at him, because he really puts on a soulful performance — every morning, at about 3 a.m.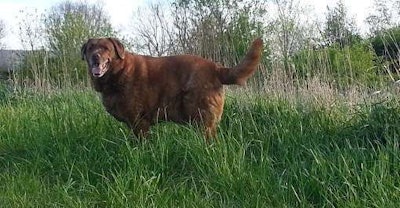 I mean he really gets into it. Stands up, tail straight out, howling for everything he's worth. And it doesn't matter if you do get mad at him. You can scream at him all you want and he won't quit until he's finished with his song. It's like having a 100-pound deranged rooster sleeping at the foot of your bed.
Believe it or not, we've gotten used to it enough to be able to roll over and go back to sleep most of the time. That is, unless the 100-year-old Husky hits us with a second wake-up punch.
After Buck gets it all out of his system and lies back down, everything will get super-quiet for about five minutes – just long enough to almost drift away – and then you hear it. A noise that can only be described as a box full of rats clawing their way through bubble wrap. Once you hear the noise, it's too late to jump up and banish the dog from the room. As a matter of fact, getting up would be ill-advised, as it would would require moving toward the smell that accompanies the noise. It's best to just cover your head and wait it out. I like to think Gambit is attempting to do us a service by trying to gas us back to sleep after Buck wakes us with his song. George does not share my optimism.
"My God, Babe. You're going to have to do something about that. Seriously."
"It wasn't me!"
"I know it wasn't you. I'd take you to the hospital if I thought it was you. I mean you need to start feeding him something different."
As if on cue, the cat jumps on to the bed, drags a bloody mouse carcass across it, and disappears, hissing and acting feral, underneath it.
"We're getting rid of the animals."
This is where we both roll over and try to get some sleep, knowing full well we would never get rid of our animals for being animals.
Yeah, we get more rest on the road.
[youtube 2ADtipIPiGU nolink]