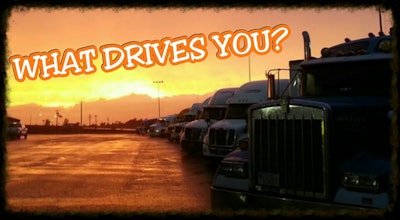 Boy, you'd think truckers didn't like to talk about themselves.
We've been trying to get together some faces and stories to put a human spin on the industry. It's our intention to have a page we can share with the people who aren't involved in the industry, to give them an idea of what people who drive for a living leave behind when they go.
It's a fan page for people who don't generally have a lot of fans.
And while it's been my experience that truckers are happy to expound on fuel mileage and super singles and which stop has the best coffee, they're really reluctant to talk a lot about themselves. We've had the page up for a while, and only eight drivers have submitted profiles.
This isn't a contest, and there are a lot of people who value their privacy too much to publicly state anything, but hearing these stories and reading what drives the men and women we're sharing the highways with humbles me. You never know when you're riding in traffic with a guy who's wife is sick or the woman who's kid is playing baseball for the third time this year while she misses it because she's on the road.
So what is it? What drives you to do this job? It's a question I ask often, especially of those who choose to be negative about the industry in general. I'm always curious about the lifestyle choice, and how it happened, and I think other people will be, too.
If you feel inclined, share your story. If you don't, read the ones posted. Either way, it's a tiny gesture to restore the "human" face of an industry that's become way too impersonal. We need to remind everyone, that truck wouldn't go anywhere without the driver. Find the page here.