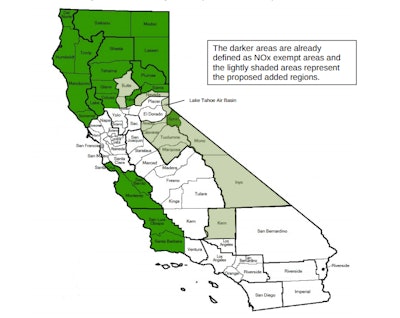 The California Air Resources Board has finalized the compliance alternatives and extension amendments it proposed earlier this year, effectively allowing the owner-operators and small fleet owners who qualify some delays in complying with the state's emissions regulations.
CARB's Beth White, who is in charge of implementing California's stringent Truck & Bus Rule, said the Board is pushing to have the changes to the rule legally effective by the end of the year.
The compliance alternatives put forth by the Board this year and subsequently finalized are measures taken by California to allow truck owners who truly cannot afford to retrofit their tractor with an emissions filter or to buy a newer truck and engine to operate compliantly in the state.
Here are the key changes finalized by CARB:
"Economic hardship extension": Truck owners who were "financially unable," White says, to install a PM retrofit, purchase a newer truck or lease a compliant truck may operate legally in the state until Dec. 31, 2016, if they commit to buy a new truck by that date.
Truck owners must provide CARB with supporting documentation — such as paperwork showing they were denied a loan — and no other compliance alternative paths could have been used in the past or currently.
Also, truck owners seeking the hardship extension must have owned the truck since before Jan. 1, 2012, and the truck must have a 1996 model year or newer engine. Truck owners must have also previously reported "good faith efforts" to comply. The truck must also have operated in California in the first six months of 2014. Overdrive's Todd Dills wrote about some of the gritty details of the economic hardship extensions in July. Click here to see his story.
Low-use exemption: The state's low-use exemption will now apply to trucks that travel 5,000 miles total or fewer in a year (both in and out of California), in addition to trucks that operate 1,000 miles or fewer in California. The 5,000-mile exemption, however, expires Jan. 1, 2020.
Small fleet extended phase-in: Fleets with three or fewer trucks now have until Jan. 1, 2017, and Jan. 1, 2018, respectively, to bring their second and third trucks into compliance. CARB said in April it hopes to secure funding in that time period to help those truck owners comply.
Expansion of phase-in credits: Truck owners who installed a PM filter on a 2006 year model or older truck by the Jan. 1, 2014, deadline now have until Jan. 1, 2023, to replace that truck with a 2010 or newer model truck and engine.