While truck body designers had started experimenting with aerodynamics before the mid-1960s, Rudkin-Wiley Corp. took strategic curves for big rigs a bit further in 1965 when it introduced its bolt-on aero device. The Air-Shield retrofit was mounted on the cab roof to help guide air over the trailer and reduce drag at highway speeds.
Advertisements for the device back in the day claimed fuel savings of $200 to $1,600 annually – a substantial amount in an era when diesel cost less than $1 a gallon. Today, not only are aero devices an acknowledged and recommended way to help improve fuel economy, they also are becoming mandatory for some owner-operators depending on where they run.
California's Air Resources Board issued regulatory guidance last October saying the state is cleared to enforce elements of its emissions regulations that require truck and trailer owners to install aero devices and use certain tires. The rule went into effect in January 2010 and requires the use of SmartWay-verified tires and other equipment on all new trucks and trailers.
Legal requirements may vary regionally, but no matter where owner-operators operate, they may be positioned more advantageously to benefit from using aero devices, says Mitch Greenberg of SmartTruck Systems, which makes the UT6-Plus aerodynamic package for trailers.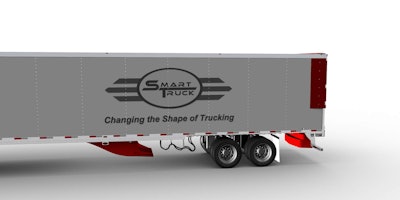 Many independent drivers run dedicated loads and routes, measure their fuel mileage more consistently and run the same equipment every day, Greenberg says. SmartTruck says its UnderTray systems can produce a more than 6 percent fuel savings. The company's UT6-Plus system includes an undertray, a rear air diffusor, two fairings on the truck's rear and a roof fairing.
Because of that more controlled environment, many differences that stem from using aero devices will present themselves more effectively and directly, which is often not the case for large fleets, Greenberg says.
Aero devices work to combat drag, which is created in two ways. One is when any shape on a truck that isn't smooth – such as rearview mirrors and bug screens – impedes airflow around the vehicle. Drag also is created by a vacuum – a low-pressure area that sucks in air that ideally would flow smoothly past the vehicle – that creates turbulence.
Bumper-mounted air dams and trailer side skirts and tails all help improve airflow underneath and around tractor-trailers. Trailer tails and side skirts also can reduce aerodynamic drag and help stability in crosswinds. The tail reduces the drag created by the vacuum at the back of a fast-moving tractor-trailer, while skirts minimize the drag produced by the swirling of air under the trailer.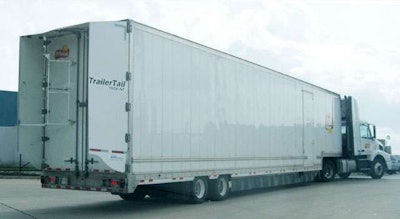 ATDynamics' TrailerTail Trident 3×3 is a three-sided 3-foot-long aero device designed to reduce semi-trailer suction drag and provide about 90 percent of the fuel savings benefit of the company's longer 4×4 version, which has an additional lower panel section.
The trailer gap area, which often is cited as a large component of tractor-trailer drag, is more challenging, says Mike Henderson, chief scientist for SmartTruck. Low pressure in the gap reacts on the tractor's rear and its fairing and the trailer's front. The solution, Henderson says, is to place fairings on the front of the trailer's top and sides; the larger the gap, the larger the trailer fairings needed.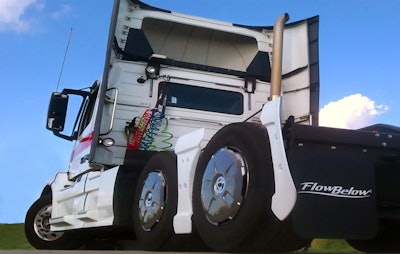 Undercarriage fairings work on the drag at the trailer's rear, with a primary component installed ahead of the trailer axle to deflect air down and away from the axle plumbing. FlowBelow's Tractor AeroKit system includes wheel covers and is designed to work with many different wheel and tire configurations, including super singles.
Other aero solutions that can help improve airflow and fuel economy, according to experts, include:
• A lower sleeper roof. In liquid bulk and flatbed operations, loads are unlikely to rise above the midroof setup's height. For some high-density-load haulers, a flattop may be a better choice.
• Rounder mirror backs. Try these instead of old-style flat West Coast mirrors for the side views.
• Tanks with aero steps. Fuel tank fairings can be paired with steps to help smooth airflow over the tractor's lower side.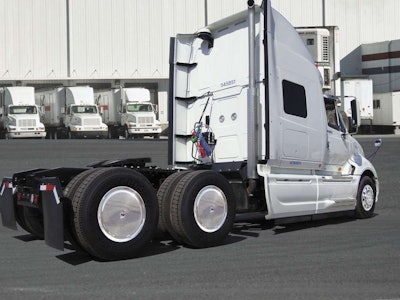 • Wheel hub covers. Outfit all outside-facing wheels with them to help smooth airflow across the wheels. RealWheels says its Wheel Covers not only provide aerodynamic benefits, but also are designed for easy maintenance. The secure mounting brackets are universal, are simple to install and allow for complete wheel removal without having to remove the mounting brackets.
• Cab side extenders. For tractors not already optimized for aerodynamics, these can create a smoother airflow over the tractor-trailer gap.
• Nose cone fairing. For flattop or midroof tractors pulling dry vans, these devices combine the vertical fairing of more standard tractor-trailer gap technology with an outsize fairing at the top.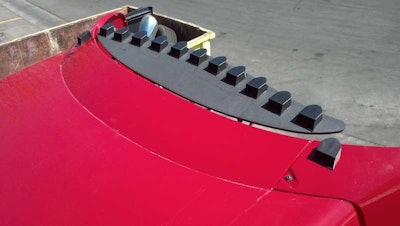 • Airtabs. Recommended locations are on the hood, along the sides and at the top rear of the tractor and/or trailer. Each one is designed to create air swirls that combine to help reduce suction and drag when at highway speeds. VorBlade's small vortex generator blades are wishbone-shaped airfoils that smooth airflow over a truck's trailing edges on the back of a cab or trailer.
• Aero mudflaps. When using wide-single tires in drive and trailer positions, combine porous mudflaps with specially designed brackets that eliminate the overhang of conventional mudflaps.