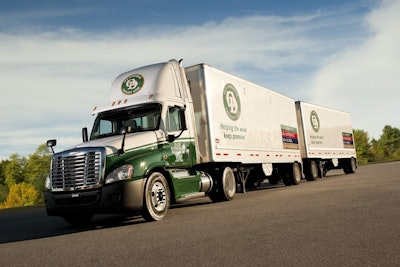 Old Dominion Freight Line has been ordered to pay one of its former drivers $119,612 in back wages after a court ruled the carrier wrongfully fired the driver after he self-reported alcohol abuse.
A jury in Fort Smith, Ark., returned the verdict Jan. 16, concluding the LTL carrier violated the Americans with Disabilities Act — which recognizes alcoholism as a disability — by firing the driver. The suit was filed in 2011 by the Equal Employment Opportunity Commission on behalf of the driver.
In June 2009, the driver reported his alcohol problem to the carrier, abiding by the company's "open door policy."
He began attending Alcoholics Anonymous and met with a DOT-certified Substance Abuse Professional, who said the driver would seek out-patient treatment and "could be returned to work."
The DOT does not prevent drivers who report alcoholism from returning to work.
The EEOC argued that companies must provide a reasonable accommodation of leave for drivers to seek treatment, if necessary. Old Dominion said it did and that it offered the driver a part-time position working the dock, but with half the pay and no health benefits.
The carrier then charged the driver with job abandonment and fired him in 2009.
The agency said the practice of prohibiting drivers who self-report alcohol abuse from returning to driving "actually endangers the public." Both an ex-driver and a current driver had testified of reluctance to report a problem because of this policy.