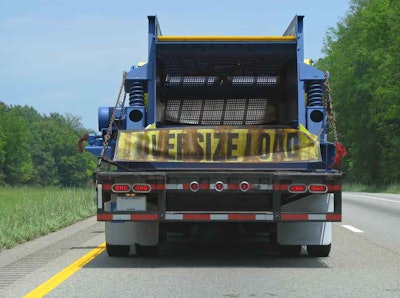 The Department of Transportation on Friday issued a report saying it does not have enough data about truck size and weight to be able to make recommendations to Congress or regulators about changing the current truck size and weight laws.
The DOT issued the report to satisfy a requirement in 2012's MAP-21 highway funding law, which required the DOT's Federal Highway Administration to issue a report on the potential impacts on safety, infrastructure and freight movement if size and weight limits permitted larger, heavier trucks.
FHWA, however, says in its report that there are "significant data limitations" in finding answers to the questions surrounding a size and weight limit increase, and that it cannot make a policy recommendation to Congress until more data can be found. "Importantly, the Department finds that the data limitations are so profound that no changes in the relevant laws and regulations should be considered until these limitations are overcome," the DOT says in its report summary.
The report, which the DOT is calling a technical paper and requests peer review and public comment on, comes about 8 months after the November 2014 due date set by MAP-21.
The Owner-Operator Independent Drivers Association has signaled it's happy with the end result: A recommendation to not change size and weight limits. OOIDA wants current limits to be maintained, citing safety risks of heavier, bigger vehicles as reason.
The American Trucking Associations, however, has called the study's conclusions politically motivated and not in line with the "unbiased information" Congress asked for.
The report's conclusions are "an obvious attempt to promote administration policy," said ATA President and CEO Bill Graves, as the size/weight report was released the same week the president issued a policy statement saying he was against such reform.