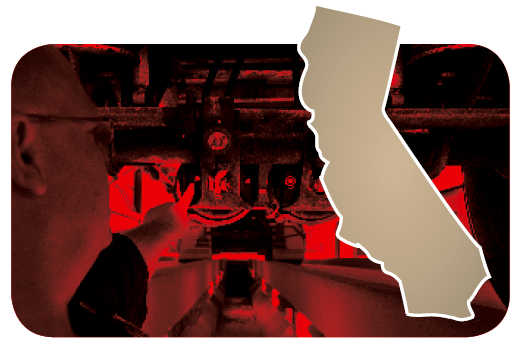 The California Highway Patrol and the California Air Resources Board aren't exactly birds of a feather, say CHP reps Josh Clements and James Portilla. CARB has an agreement with the patrol's Commercial Vehicle Section to use CHP's weigh and inspection facilities to conduct its business, but the board doesn't get direct assistance from highway patrol inspection personnel.
Says Clements, "I don't even know what CARB's looking for." In other words, CHP isn't tasked with pulling 2004 vehicles out of the weigh station line for violation of CARB's in-use diesel regs, which essentially prohibit that model year from running California's roads, with few exceptions.
CALIFORNIA'S INSPECTION SELECTION PRIORITIES
1) Obvious visible violations
2) Hazmat vehicles with no CVSA decal showing recent inspection
3) Hazmat vehicles with expired CVSA decal
4) Large CMVs (more than 26,000 pounds) with no decal
5) Large CMVs with expired decal
6) Small CMVs (less than 26,000 pounds) with no decal
7) Small CMVs with expired decal
What CHP does do regularly – and they've made it a point to do so – is "to push that [truckers] get a Level 1 or 2 inspection for credit on their CSA scores" in conjunction with any CARB smoke test or other check, Clements says. "We try to make every effort if a driver is stopped at our facilities to do an inspection so that the driver gets credit for it, and that he doesn't drive away with nothing to show for it."
Within the last year, CHP's near-1,000 inspection personnel received a revised list of inspection selection priorities, shown above listed in order of importance. Hazmat trucks recently were added to the list to boost their priority, Clements says.
Judging by the list, a good way to avoid inspection in California might be to get a CVSA inspection decal before you get there.