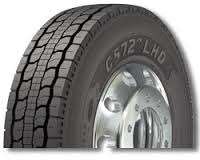 Membership in Goodyear's Smart Fleet program, which provides discounts and special services to owner-operators, has grown 36 percent in the last 12 months, said Jose Martinez, digital and solutions manager.
Sales by members have outpaced membership, growing more than 50 percent over the same period, Martinez said at the Great American Trucking Show in Dallas.
Goodyear is offering new members a $25 rebate on select tires, up to 10 tires, for a maximum discount of $250.
Members are eligible for Goodyear's 24/7 roadside service with no dispatch fee, and they can use the Road Service app to simplify using the service.
The program targets owners of one to 25 trucks.