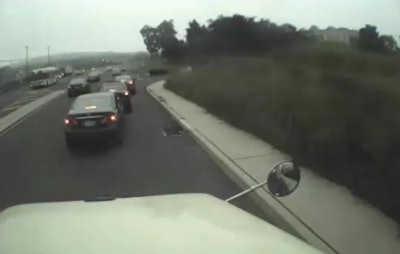 In this video from the dual driver- and road-facing cameras manufactured by the SmartDrive company and installed in the trucks of the Pennsylvania-based Volpe Express fleet, another careless four-wheeler move is well evident. But it also served as a reminder for the trucker that, had he been a little more adequately aware of impending moves by the autos up ahead, the save likely wouldn't have been near as dramatic, says Christopher Prince, Volpe safety director. "He was focused on the car that swoops in front of him," but "if he'd been watching more closely" up ahead, the hard-braking event that triggered the camera and the subsequent jump up onto the curb might have been avoided.
The trucker was fairly close to the Volpe terminal in Phoenixville, Pa., rolling on Egypt Rd. approaching where it intersects with Pennsylvania 422 heading east and west. Prince describes the area as a congested, semi-urban one, a "high-traffic area with a big mall, several big box stores. It's a huge thoroughfare to pick up 422."
"As memory serves," Prince adds, the driver in this case "didn't remember he'd had his coffee in his hand" when he and Prince reviewed the event later on. Talking about how he approaches such conversations, Prince says he strives simply to let the driver come to his/her own conclusions. In this case, "hey, remarkable balance and power of one arm," Prince says. The coaching opportunity, then, comes in the realization, of course, that "that's why we have cupholders in the trucks.
"I sit and I listen to what they have to say and let them vent…. Then: 'What could you have done differently?'"
Having cameras throughout the all-company-driver, Teamster fleet has proved time and again to be a powerful exoneration tool where accidents occur, says Dante F. Volpe Jr., COO of the company and representative of the fourth generation of the Volpe family in a leadership role at the company. The cameras "definitely got a mixed review to begin with," he says. "We'd had a few drivers who'd taken it upon themselves to put one in on their own, but we still had the resistance, initially. It only took one or two" incidents where exoneration of the driver occurred after an accident for "word to spread like wildfire."
Drivers with the company, by and large, says Prince, view the devices favorably today. Prince sees cameras coming as OEM-installed technology in the near future, and "if I was an owner-operator with 1-25 trucks," he adds, "I'd make it my no. 1 investment" for the exoneration power alone. "Insurance companies are offering discounts," and "since we're in this litigious society that we're in, it couldn't hurt."
Click here to view more Dashcam Central videos.