So, circumstances beyond my control have led me back to a previous version of my nifty little smartphone.
We weren't able to revive her. She's been put to rest in the basket of "things we never throw away." I believe every home has one of these baskets, [in some cases a drawer –ed.], and it generally contains used batteries, ammunition brass, almost-dead lighters, Bibles, and old cellphones. This is apparently the list of things restricted from landfills if you want to keep the Earth clean and your everlasting soul in good standing. MacGyver could wage a full on religious war with the items in our basket.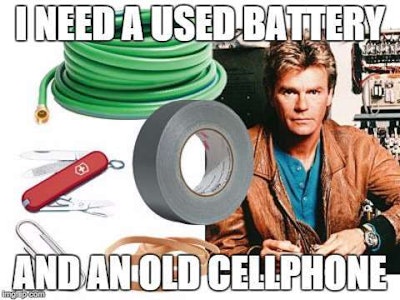 I'm re-learning the buttons on the old phone, and have now twice made a call instead of locking my screen. I swiped the screen and pocketed my phone, and had a very long involved and one-sided conversation with my mother's cellphone about how awful the dog's teeth look, and how they need to be cleaned. Of course, this was very confusing to my mother, who I had no idea was involved in the conversation, because I was talking to the dog. Imagine this message from your grown (and mostly sober) daughter: "Aw pew poo … he gots the breath of death, him does. He face is stinky … eeeew. We'll get him fixed up, want a treat?"
I don't think mom is averse to treats, but she was somewhat taken aback by being told she had "the breath of death" and being called "he" several times.
Needless to say, this butt-dial required reparation and explanation.
George is notorious for butt-dials. Way back when we first got cellphones, and neither one of us knew how to work them right, Georgie was still little enough to get into things. George was watching him one afternoon (ahem) and noticed he was quiet for too long – he pocketed his cell phone as he walked into a bathroom destroyed by a three-year-old boy and simultaneously called my mother while yelling, What the hell are you doing?!?
My poor mom knew it was George calling, but couldn't for the life of her figure out why he was so adamantly demanding to know her present condition. Poor mom. She suffers.
The very worst accidental call I ever got was from George. He was hauling charcoal down a mountain somewhere in Tennessee, lost a gear and started free-falling with 40,000 lbs. of auto-light Kingsford charcoal behind him. I don't know how I got called in the ruckus, but all I could hear was, "Holy shit holy shit holy shit, don't catch don't catch holy shit it's 45 I got it holy shit don't catch, baby don't light up…" He said a bunch of other stuff, but I fainted way back at "it's 45, I got it."
Not really, but by the time he got down that mountain and stopped, we had both wet our pants and prayed to Jesus multiple times. The first thing he did was grab his phone to call me and was surprised to find me on the other end already. "Baby? You OK?"
"Hell no I'm not OK, I need a new seat and a pair of pants. Did you hear that?"
And unfortunately, I did hear his panic and distress, and it was one of the worst things I've ever heard, because Mr. Parker is usually Joe Cool. It was the worst butt-dial ever.
So if you get a call from me, and I'm prattling on about how thin the toilet paper is at Love's, hang up, because you don't want to hear what's going to happen next. Sometimes, learning new phones is hard.