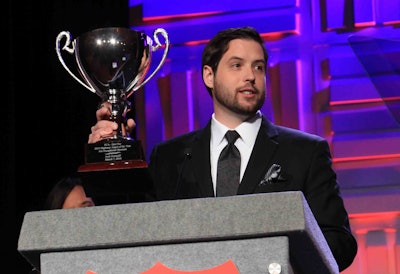 Josh Grimaldi, a truck driver out of Springfield, Mo. for Prime Inc., has been named the 2015 Highway Angel of the Year for saving a pregnant woman who was involved in a crash.
The Truckload Carriers Association and Highway Angel sponsor EpicVue presented Grimaldi with the award Monday during TCA's annual convention in Las Vegas.
"I would like to thank Prime for giving me the chance to drive and showing me what safety is all about," he said. "I appreciate everyone in this audience for keeping trucks rolling and for everything you do."
Grimaldi rescued a pregnant woman from a crushed car following a rollover accident on westbound I-80 near Donner Pass on Dec. 13, 2015. During an evening snowstorm, the driver hit the back of Grimaldi's trailer, fishtailed and overturned on the side of the road. He directed another motorist to call 9-1-1 while he lifted the lady out of the vehicle, assessed her injuries and spoke to paramedics before they arrived about the severity of the situation. The full report can be read here.
"Josh has only been working as a professional driver for about a year now, but he certainly made a name for himself right away," said Robert Low, a former TCA chairman and the president and founder of Prime, Inc. "We are very pleased to call him part of our trucking family."