Another trucker was attacked this week – according to an article in CDL Life, a driver parked in his company lot for the night was wakened by a brick through the side window, followed closely by a person with a knife, demanding money.
Fortunately, this driver was able to fight the guy off, and lived through the incident by using his fists and wits. We know from past experience this isn't always true. Sometimes, people bring guns instead of knives to a robbery, and the driver doesn't survive – or they spend two months in the hospital, healing their guts up from an extra couple of holes a cretin from the streets decided to give them.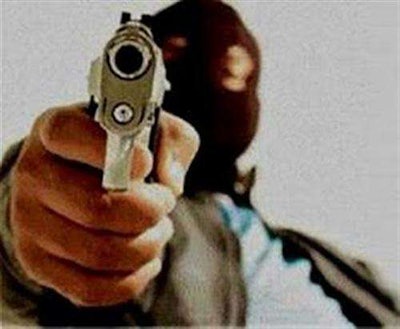 The call to even the playing field and allow truckers to carry personal protection has become stronger over the years. Jason's Law has proven to be little deterrent — rest areas continue to close and the need for safe parking will only be compounded by the e-log mandate. In this most recent incident, a company lot with razor wire wasn't safe — it was dark and in a bad part of town.
It's now a frequent occurrence to hear of a trucker being shot or stabbed, and a lot of people think an across-the-board permit to carry should be issued with a CDL, based on the ability to pass a background check that also clears them for things like a TWIC card and hazmat clearance.
In theory, this is redundant, because American citizens have the right to bear arms, according to the 2nd Amendment. In application, it's necessary because 2nd Amendment rights aren't observed in some states. In reality it's a terrible idea, because passing a background check doesn't mean you're a responsible gun owner.
It's no secret our family supports the 2nd Amendment to the fullest. I grew up in a gun family, my father built, bought and sold guns his whole life. We were taught to be responsible and knowledgeable about our guns, my dad preached responsibility more than rights, and my Uncle Flip carries on that tradition today. We take owning guns very seriously, and unfortunately, not everyone who owns or carries one has had the benefit of education about the responsibility involved with the right to do so.
I agree whole-heartedly with the argument that if we can trust someone to haul nuclear waste, they should be trusted enough to carry a gun, but there should be education included with that particular aspect, instead of an overall OK to do so. Unfortunately, I also believe that if the education is implemented, it will turn out to be a money grab instead of a good thing – just like they're going to do with the new driver education standards.
If you have a concealed carry permit in your state of residence, it's asinine that it wouldn't be observed in all states, and I think that may be a better thing to fight for. CCW requires class time and personal investment and more states are giving reciprocity, but it's still not across the board. Gary Slider and Steve Aikens do a fantastic job over at their site keeping an updated site with hot links to specific state law, and traveler information. If you carry, I strongly suggest becoming familiar with this site.
In the end, company policy dictates what their drivers are allowed to do. Having a gun doesn't necessarily mean you're safe. Tasers, mace, and knives are alternatives, but they too are dictated state by state as to the legality of carrying them. Being aware of your surroundings and having safe parking are much greater defenses, but until we get enough safe parking, we've got a real problem – and people are dying from it.