Citing global road freight growth projections of three times their current levels by 2025, Daimler outlined March 21 in a special event in Dusseldorf, Germany, its strategy is to create a connected truck environment that provides sophisticated real-time data exchange, greater efficiency and transparency throughout the supply chain.
"On average, a truck spends only one-third of its time driving," said Daimler Trucks' Wolfgang Bernhard, member of the Board of Management for Daimler AG. "The rest is spent waiting to get loaded or unloaded, at a service facility, stuck in traffic or at a rest area. Soon these can be problems of the past with connectivity. The connected truck can provide the real-time information that is now lacking."
Bernhard envisions a supply chain with completely digital information exchange between driver and shipper, a Formula 1-like service environment with parts and technicians on-hand to make repairs as the truck arrives, automatic rest stop reservations and routing when the vehicle senses the driver is fatigued, and exchange of information between vehicles and infrastructure.
"Without the connected truck, information flows with the logistics network were sketchy and fragmented," said Bernhard. "With the connected truck, the main data node is established and provides real-time information to all participants in the logistics network and turns that network into an information power grid."
Highway Pilot Connect enables truck platooning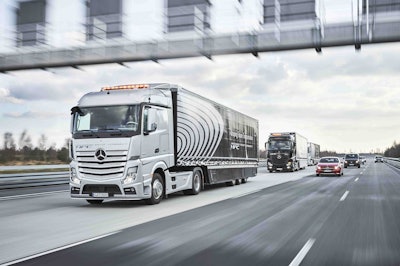 As an example of increased connectivity, Daimler debuted its Highway Pilot Connect, the next step in it quest for autonomous truck operation. In an on-highway demonstration on the Autobahn on the outskirts of town, Daimler showcased its new capabilities with a platoon of three Highway Pilot Connect-equipped Mercedes Actros trucks.
Highway Pilot Connect builds on Daimler's Highway Pilot autonomous truck platform it introduced last year but adds Wi-Fi communication for vehicle-to-vehicle (V2V) communication, allowing all three vehicles to automatically adapt to changing traffic and road conditions.
In the demonstration, the following distance is reduced from 50 meters to 15 meters when the three trucks link into a single platoon, which Daimler says can decrease emissions and improve the combined fuel efficiency of the three vehicles by as much as 7 percent (2 percent improvement for the lead truck, 11 percent for the second truck and 9 percent for the third truck).
When a Mercedes passenger car entered the gap between the second and third truck, the Highway Pilot Connect automatically increased the following distance of the third truck to 50 meters until the car exited the lane, after which the system automatically closed the gap back to 15 meters.
"Highway Pilot Connect is a perfect example to illustrate the possibilities in V2V communication," said Sven Ennerst, head of product engineering & global procurement, Daimler Trucks. "Compared to Highway Pilot, Highway Pilot Connect unveils further fuel savings potential and reduces CO2 emissions and takes the burden off the shoulders of drivers on monotonous routes and will increase transport efficiencies in areas with low traffic density."
Overdrive sister site CCJ has more on the Daimler announcements at this link.