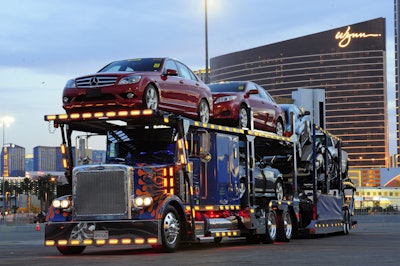 For an updated view of auto hauling from the perspective of an owner-operator in a Class 3 hotshot truck, see this report on a Pennsylvania-based hauler.
Auto hauling is one of the more difficult trucking segments to enter and master, but it also can be one of the most financially rewarding.
"A lot of guys will see the money in hauling cars, but don't have what it takes," says Wisconsin-based Jim Lepke, owner of Fortun Transportation. "It takes a lot of experience, and I guess when I got started, I was too young and stubborn to give it up. Now we're one of the better ones doing it because we've been doing it for so long."
Two of the immediate challenges are buying a trailer and learning to load vehicles.
"We paid between $265,000 and $270,000 for a 2013 Peterbilt and 2013 Cottrell trailer in 2013," says Dana Miller, president of Young's Transport, a car hauling company based in Fort Myers, Fla. Of that outlay, $97,400 was for the 10-car trailer. It's not unusual for a new nine- or 10-car trailer to cost upwards of $90,000.
Bill Schroeder, general manager of the Auto Haulers Association of America, says another challenge for drivers getting into car hauling today is gaining experience. Most insurance companies want drivers to have at least two years of over-the-road experience with a commercial driver's license before hauling cars.
On-the-job training is one way to learn the business. "Small owner-operators tend to do it that way unless they work for a larger company before getting their own unit," Schroeder says.
[gttable type="table-bordered" cols="" background="#bfbfbf"]
What does auto hauling pay?
Car haulers' average earnings often beat that of owner-operators in more common applications. Specialists at the top, hauling one or two expensive cars in an enclosed trailer, can earn well into six figures.
The Auto Haulers Association of America's Bill Schroeder says a driver with good experience and skills who has a contract to haul new cars for a car maker likely will make between $75,000 and $110,000 a year.
"Years ago, there was a greater variance between what a box driver and a car haul driver made than there is today," Schroeder says. "The gap has narrowed a bit, which exacerbates the shortage problem we have in car hauling."
Using the online brokerage board Central Dispatch, Fortun Transportation's Jim Lepke says he's satisfied working hard nine months of the year and clearing $75,000.
"It's all about money management," he says. "I can take a lot of time off, usually June through most of August, because people aren't moving as many cars that time of year."
Lepke usually goes from Wisconsin to Florida, then back up to Detroit, for a 10-day round trip. "When I'm putting together a load on Central Dispatch, I'm looking for a full 10-car load, otherwise it's not worth my time," he says. "I used to run empty coming home, but with Central Dispatch, I was able to find cars coming back to Detroit out of Florida, so I get paid going both ways."
On a recent run, Lepke left La Crosse, Wis., and picked up eight cars in Milwaukee to haul to south Florida. He then picked up eight more cars and took them to Detroit. He grossed $11,500, about $4 a mile, but made 33 stops.
Dean Zervas, who drives hot shot and hauls cars in a two-car enclosed trailer, hauls mostly classic or rare cars, clearing $125,000 to $150,000 annually.
"I haul play toys for guys with big money," Zervas says. "I've got a car background, a good presentation for customers with no straps touching the cars, and I'm at about 80 percent repeat business now. My customers know they're getting high-quality service from me."
Frank Cuomo, CEO of Bears Transport brokerage, says carriers will get 40 to 50 cents a mile on long runs, and closer to $1 a mile on shorter runs. The broker takes $100 to $300 per car.
Young's Transport charges $500 per car when doing a full load for a dealership. Hauling for a private owner, it can get closer to $900 for a car.
"We don't do too much full-load stuff," says Jeannie Phillips of Young's. "The private shippers can and will pay more for our services."
[/gttable]
The other way is to go through a training program, either with a company or at a school. AHAA co-brands a school, the AutoHauler Training Institute of Orange Park, Fla.
One thing that drives up the cost of car hauling equipment is that the trailers have to match up with the trucks, unlike most other applications in the industry. Young's uses Cottrell trailers, so the company installs Cottrell head racks on its tractors to ensure proper alignment.
"If a truck breaks down, we can't just go and rent another to continue the trip," says Jeannie Phillips, Young's transport specialist. "With the newer trucks with the emissions gear, the trucks end up in the repair shop more often. That means loss of revenue and loss of repeat business."
Lepke started hauling cars in 1990 after owning a towing company.
"I met a guy in the parking lot at the auction in Chicago in 1989, and he was operating an eight-car hauler," Lepke says. "A few months later, I bought my own. Three years later, I was operating three trucks. It cost me $1 million to learn how to do this. I made a lot of mistakes the first few years."
Lepke compares loading an auto hauling trailer to putting together a jigsaw puzzle. "You know how much space you have, and you have to know the dimensions of the cars as you're putting your load together so you know where to put them on the trailer and whether or not you can haul them at all," he says. "Every inch means the world, but when a car pays $700 to $800, you've got to do what you've got to do."
Phillips says pricing and service quality can complicate the business. "Our competition isn't really carrier versus carrier, but our problem runs with some, not all, brokers," she says. "A lot of the Internet brokers out there will undercut pricing just to get the work and give the load to anybody with a car hauler."
Phillips says a lot of brokers will claim to be bonded and insured, but often they aren't insured because they aren't a carrier. "Good brokers offer decent prices to carriers, and we work with them as much as we can," she says. "Those seem to be going by the wayside, though, because of the lowball figures."
Frank Cuomo, chief executive officer of Bears Transport, a brokerage company in Lake Forest, Ill., says there are a lot of "unscrupulous brokers all vying for the same business."
"We try to educate our customers as far as looking people up and finding a good broker or carrier," Cuomo says. "It's important to know who you're speaking to. People will think a price is from a trucking company to move their vehicle, but it's actually a broker in his living room."
One constant in the niche is the value of repeat business.
"A lot of what I haul is people going to Florida for the winter, who then come back in the spring," says Lepke. "I'm one of a few guys out there who makes home deliveries and pulls up with a tractor-trailer to unload. People tend to call you back the next year when you do a good job for them."
Young's gets "repeat business because our company drivers and the owner-operators we use know what they're doing," Phillips says. "Most of our business comes from private owners because a dealership isn't going to pay what we're asking for a full load of cars."
Cuomo says building a reputation is key for a broker. "We get a mix of both dealerships and private shippers, a lot of athletes, snowbirds and people that buy cars on eBay," he says.
Because car haulers occasionally get high-value loads, they also have to stay on top of their cargo insurance. Lepke and Dean Zervas, who hauls high-end cars, get a rider from their insurance companies when a load's value is too high.
Most carriers and owner-operators carry $1 million in liability insurance and $250,000 in cargo insurance to protect the cars.
While it's debated if there's a driver shortage across the trucking industry as a whole, Schroeder says there is definitely one in the car hauling segment.
"Rates are higher now than they were during the recession, partly because of the driver shortage," he says. "It seems to be worse on the car hauling side because it's a more physical job than some other segments of the industry."