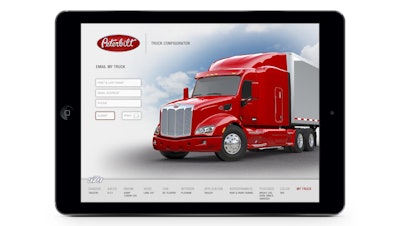 A new iPad app from Peterbilt will allow prospective buyers to design their own Model 579, Peterbilt announced recently.
The Model 579 configurator app allows users to choose from a range of specs, colors and configurations for the trucks.
"Peterbilt's Model 579 configurator app provides an educational, entertaining way to engage with the most innovative and aerodynamic truck in the history of Peterbilt," said Jorge Medina, Peterbilt's director of marketing. "Users can experience the Model 579's versatility and many premium options by building the truck of their dreams or experimenting how to optimize the truck for various applications."
Users can choose either a tractor or truck chassis, a day cab or pick from a line of sleepers, different hood lengths, exterior colors and bright packages, powertrain and more. Users can also select fairings and closeouts to build the Peterbilt 579 EPIQ.
Once the trucks are designed, the app allows them to either be saved or emailed. A similar version of the app is also available here.