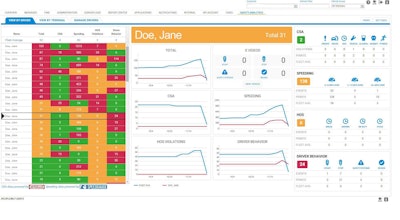 Some leased owner-operators and company drivers may well have seen a bit of the PeopleNet company's Video Intelligence Solution, a relatively new option for fleets utilizing the PeopleNet onboard platform for communications, e-logs and more. The new option gives fleets single-system access to video captured from forward-facing cameras and event data captured by PeopleNet's Onboard Event Recording (OER) application.
The video and critical event data is transmitted to the cloud and accessed through the online PeopleNet Fleet Manager (PFM) portal.
Gorski Bulk Transport was among beta testers of the video/data-based system through 2015 and into this year. PeopleNet notes the company is expected to soon have its entire fleet outfitted with the system. Said Gorski President Ted Gorski about the forward-facing video camera's efficacy, "There are a lot of vehicles on the road that get in the way of good, safe operations. Having a resource like video puts a carrier in a position to support its drivers and customers and utimately to improve the safety and efficacy of its business.
Other features of the Video Intelligence Solution include:
Real-time review of video triggered by company-controlled OER settings, including sudden acceleration and deceleration or hard braking.
On-demand video recall allowing for the efficient retrieval of video clips from the past 72 hours, searchable by truck or driver identification number.
An easy-to-navigate video library with sorting and filtering options, video flagging, exportable reports, location mapping and downloadable clips.
Read more about PeopleNet's new, related Safety Analytics dashboard for a four-tier scoring system for individual drivers via Aaron Huff's report in Overdrive sister fleet publication CCJ.