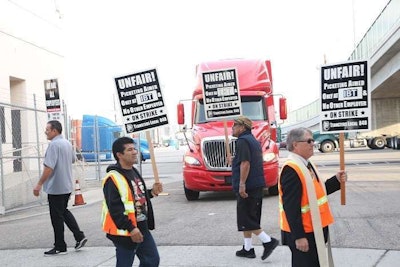 A California judge will consider approving a $5 million class action settlement to compensate for wages that nearly 400 drivers say they are owed by a port trucking company.
On July 14, the Wage Justice Center and Asian Americans Advancing Justice-Los Angeles reached a $5 million class action wage and hour agreement filed on behalf of immigrant truckers.
The non-profit organizations say the company, QTS, Inc., and related entities such as LACA Express and Win Win Logistics, misclassified drivers as independent contractors. The companies then filed for bankruptcy to avoid liability for wage theft.
Judge Berle of the Los Angeles Superior Court will hear drivers' motion for preliminary approval of the settlement Aug. 12. QTS did not immediately respond to a request for comment.
Almost half of the three-year case has occurred in federal bankruptcy court after the plaintiffs asked that all of company related business organizations be consolidated. On one occasion, QTS filed for debtor bankruptcy protection the same day its former president, James Kang, created a new corporation using all of the debtor's accounts and drivers.
The truckers say they were controlled like employees, with the company stipulating what could be hauled and for which customer. However, QTS deducted fuel, repairs and much of the trucks' operating costs from their paychecks.