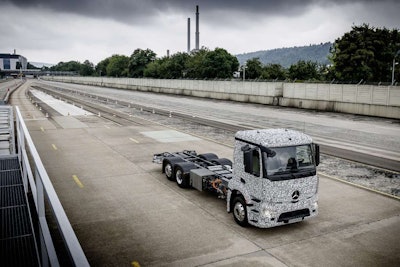 Daimler Trucks, parent company of Freightliner and Western Star, introduced Wednesday the industry's first take on an electric-powered truck, besting upstart Nikola Motor Company and electric vehicle maker Tesla, both of whom announced plans this year for a heavy-duty electric truck.
Daimler Trucks rolled out this morning its Mercedes-Benz Urban eTruck, the first fully electric truck with a total weight of up to 28 tons. Stefan Buchner, head of Mercedes-Benz Trucks, says the market launch of this technology is conceivable by the beginning of the next decade.
Daimler Trucks has already demonstrated the day-to-day suitability of the fully electric truck in the light distribution segment with its Fuso Canter E-Cell, which has been in customer trails since 2014.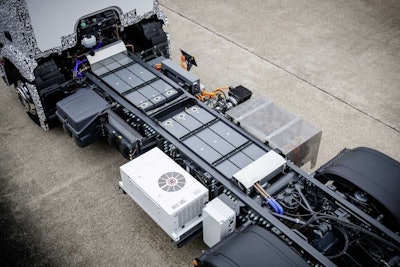 The Mercedes-Benz Urban eTruck is based on a heavy-duty, three-axle short-radius Mercedes-Benz distribution truck but developers revised the drive concept. The entire conventional drivetrain was replaced by a new electrically driven rear axle with electric motors directly adjacent to the wheel hubs – derived from the electric rear axle which was developed for the Mercedes-Benz Citaro hybrid bus. The power is supplied by a battery pack consisting of three lithium-ion battery modules resulting in a range of up to 125 miles – enough for a typical daily delivery tour. The batteries are housed in a crash-proof location inside the frame.
The cost of fully electric drives systems, coupled with their low mileage range, has made the venture prohibitive until recently. Daimler Trucks expects the costs of batteries to lower by a factor of 2.5 between 1997 and 2025 – from $550/kWh down to $220/kWh. At the same time, performance is forecast to improve by the same factor over the same period – from 80 Wh/kg up to 200 Wh/kg.