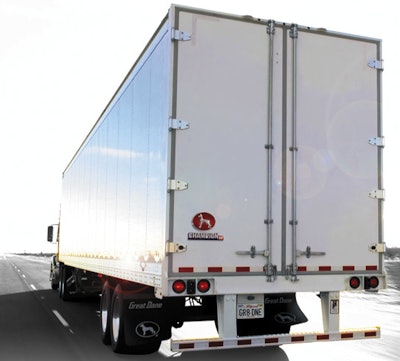 Bendix has announced it is making available a no-cost permanent remedy kit for trailers affected by a recent recall campaign.
More than 15 trailer manufacturers have recalled nearly 40,000 trailers equipped with the Bendix SR-5 spring brake valve, which is sold outright and also included in Bendix antilock braking (ABS) kits for trailers.
In response to the recall, Bendix part number K140496 is now available free of charge to enable repair of Bendix SR-5 spring brake valves identified in the voluntary safety recall campaign. Bendix has directed owners of the trailers to work through their trailer manufacturer or an authorized Bendix parts outlet – depending on how each manufacturer has elected to administer the recall – to obtain the remedy kit.
Bendix notified the National Highway Traffic Safety Administration in May of the start of a voluntary safety recall campaign involving all Bendix SR-5 trailer spring brake valves manufactured between Jan. 1, 2014 and March 4, 2016.
Bendix says, under a combination of a unique set of circumstances, it is possible – though not probable – for an internal leakage to develop in the SR-5 unit, resulting in slow-to-apply spring brakes when parking the trailer. The leak is heard or observed at the supply (red) gladhand when uncoupled from the tractor – or, if coupled, from the exhaust of the park control valve. This issue does not affect the tractor brakes, Bendix adds.
As remedy kits are shipped, Bendix asks trailer owners to follow the instructions provided in direct communications from their manufacturer or Bendix in the coming weeks.
Bendix says representatives are available to help trailer owners with questions about the recall weekdays 8 a.m. to 5 p.m. Eastern, toll-free at 1-877-345-9526, or by email at SR5campaign@bendix.com. Information is also available at the company's online Product Action Center. Applicable information on the recall is available and refreshed often, Bendix says.
The full list of trailers affected by the recall is as follows:
2015-2017 Brenner liquid tank
2015-2016 Cheetah Bridgemaster chassis
2016 Cheetah curtainside flatbed
2015-2016 Cheetah extendable chassis
2015 Cheetah flatbed
2014-2016 Cheetah gooseneck chassis
2015-2016 Cheetah straight frame chassis
2014-2016 East flatbed
2014-2016 East flatbed tipper
2014-2016 East frame dump
2015-2017 Fontaine Revolution
2015-2017 Great Dane dry van
2015-2017 Great Dane reefer
2015-2017 Great Dane flatbed
2014-2016 Hackney beverage trailers
2014-2016 Heil crude trailer
2014-2016 Heil dry bulk trailer
2014-2016 Heil flatbed
2014-2016 Heil petroleum pull trailer
2004-2016 Hyundai Translead chassis
2004-2016 Hyundai Translead container
2004-2016 Hyundai Translead van reefer
2004-2016 Hyundai Translead van trailer
2014-2016 Kindron reefer trailers
2016 Manac flatbed
2017-2018 Manac van trailer
2014-2016 Polar Tank DOT 406 tank trailer
2014-2016 Polar Tank DOT 407 tank trailer
2014-2016 Polar Tank DOT 412 tank trailer
2014-2015 Polar Tank MC 331 tank trailer
2014-2016 Polar Tank non-code tank trailer
2015, 2017 Strick tandem axle van trailers
2015-2017 Transcraft platform trailers
2014-2016 Utility dry van trailers
2014-2016 Utility flatbed trailers
2014-2016 Utility reefer trailers
2015-2016 Vermeer TR620
2015-2016 Vermeer TR626
2014-2016 Vermeer DT6
2014-2016 Vermeer HG4000
2014-2016 Vermeer HG6000
2014-2016 Vermeer HG8000
2014-2016 Vermeer TG5000
2014-2016 Vermeer TG7000
2014-2015 Vermeer TG9000
2014-2016 Vermeer WC2300XL
2015-2016 Vermeer WC2500XL
2015-2017 Wabash National van trailers
2015 Wilson CD-1080
2015 Wilson DWH-550