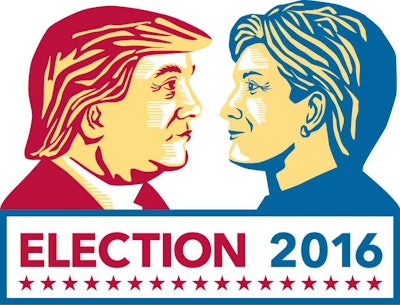 Trucking campaign contributions have heavily favored Republican candidates this election cycle, with 82 percent of the industry's contributions going to GOP candidates, according to data from the Center for Responsive Politics. The remaining 18 percent has gone to Democrats, the center reports.
Contributions to the top Republican on the ticket, however, are much lower than recent presidential elections.
Of trucking's $5.22 million in contributions, more than $97,000 went to Republican presidential nominee Donald Trump – far less than the $1.05 million contributed to Republican presidential hopeful Mitt Romney in 2012. It's also well below the $375,000 contributed to John McCain's Republican campaign in 2008.
Just over $72,000 has been contributed by trucking to Democratic nominee Hillary Clinton this election cycle, according to CRP data. Clinton's trucking-received contributions are lower than President Obama's $80,601 in 2012 and $151,864 in 2008.
The two prominent third-party presidential challengers, Gary Johnson of the Libertarian Party and Jill Stein of the Green Party, received $250 and $200, respectively, from trucking industry contributors.
The industry's 2016 contributions continue a trend of 13 straight election cycles in which Republicans received the most financial support. That dates back to the 1992 election cycle and includes mid-term elections.
The top recipient of trucking political contributions was Republican Sen. Ted Cruz, receiving $164,730. By the end of the GOP nomination campaign, Cruz was the strongest GOP presidential contender after Trump.
Following Cruz was Rep. Jeff Denham (R-Calif.), who received $99,150 from trucking contributors in his bid to hold his seat in the House of Representatives. Denham has been rumored to be next in line to head the House's Transportation Committee if he wins re-election.
Trump was third on the list, pulling in $97,461 from trucking contributors.
Clinton ranked sixth — behind her Democratic rival Sen. Bernie Sanders and behind House Transportation Committee Chair Rep. Bill Shuster (R-Pa.) — with $72,032 in trucking-based contributions. Sanders received $74,158, according to CRP data.
In 2016's Congressional elections, Republicans have received $1.68 million from trucking industry contributors, compared to just $352,281 given to Congressional Democrats.
Top trucking contributors include the American Trucking Associations, which has contributed $531,100 in the 2016 election, and the Owner-Operator Independent Drivers Association, which has given $252,750 to candidates, PACs and other groups.
Other top contributors include Crete Carrier Corp. ($170,165 in overall contributions), the National Tank Truck Carriers ($149,000), Penske ($144,867), Old Dominion ($125,989), Werner Enterprises ($108,554), Schneider National ($86,256), Prime Inc. ($76,390) and Paccar ($73,319).
At this point in the election cycle, trucking campaign contributions dipped from recent elections. Trucking's 2016 contributions trail 2012's $9.98 million and 2008's $5.9 million. This cycle's spending also trails the 2014 mid-term elections, in which trucking contributed $7.87 million, according to the CRP.