Once upon an midnight dreary, when I parked it, weak and weary,
In a spot where safety was unsure —
While I logged it as just napping,
Suddenly there came a tapping,
Then the tap became a rapping, banging at my driver's door.
"'Tis some lizard or a beggar, tapping at my driver's door. Only this and nothing more."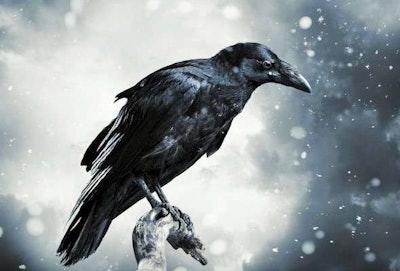 Ah, distinctly I remember, it was during bleak December;
After dark and in Seattle, as I searched out a parking moor.
Eagerly, I wished the morrow; vainly I had sought to borrow
From my service hours – hours lost to a grocery store.
For the slow and turgid jackal lumping loads could only cackle
When asked to take less time than evermore.
And as the silken, sad tapping quickly became urgent rapping
I realized I'd never rest until I opened the door;
So now to still the loud discord, I part the curtains and retort,
"I don't need company, have no dollars to score. I'm here for sleep, and nothing more."
Deep into that darkness peering, as I sat, wondering, fearing,
Will I be robbed or somehow vexed by greed?
But the silence then was broken, and the stillness was awoken
With the words there spoken, "Wake up driver, you're parked illegally!"
To the speaker I then answered, "ELDs have failed as a safety token!"
Merely this and nothing more.
Startled at the stillness broken by reply so aptly spoken,
The law enforcement officer took time to reply,
"What I utter is stock and store caught from data and digital lore
Of unmerciful masters who have never sought parking on this shore.
Move your rig and keep on going, this lot is private, they don't care if it's snowing.
No haven can be offered in the storm."
I was told to move, and nothing more.
And the safety is still sitting, left abandoned by those willing
To impose rules and orders impossible to follow.
If your issue is safe driving, please allow those who are striving
A safe place to rest, recuperate and restore
Only this, and nothing more.