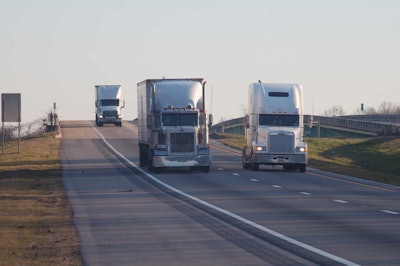 Truck drivers who received their current medical certification from Dr. Anthony Lefteris, who operated out of a Petro in Atlanta, will need to be re-examined and issued a fresh medical certification by another examiner, the Department of Transportation says.
Lefteris was arrested earlier this month by federal officials, who allege Lefteris cleared thousands of drivers for their medical certification without performing necessary tests, even after some truckers reported issues such as high blood pressure.
Truckers who received certification from Lefteris will be notified by mail by the Federal Motor Carrier Safety Administration, says Duane DeBruyne, FMCSA spokesperson. Drivers will then have 30 days from the date posted in the letter to see an examiner and receive new medical certification from an examiner in FMCSA's National Registry of Certified Medical Examiners.
"Drivers that fail to obtain medical requalification within the 30-day time period will be medically disqualified from operating," says DeBruyne.
The DOT estimates more than 6,600 drivers are affected. Most of those are domiciled in Georgia, DeBruyne says, but drivers from 48 states have been impacted. DeBruyne says drivers or carriers with questions can contact FMCSA via email at [email protected] or via phone, 202-366-4001.
DeBruyne says drivers can check their medical examiner's certificate to determine if Lefteris issued their certification. "If affirmative, seek re-testing by a NRCME practitioner as soon as possible," DeBruyne says.
Lefteris was arrested Dec. 1 and charged for certifying drivers without performing full exams. He was also charged for uploading false information to the DOT's recording system. Lefteris was scheduled to appear in court today, Dec. 20.
The DOT has since removed Lefteris from the list of certified medical examiners, adding a note to his listing telling truckers not to see him.
Undercover DOT agents began investigating Lefteris in September. For more on the investigation and the DOT's findings, see Overdrive's original story, posted Dec. 15.