George had the flu last week and it was horrible. He was so sick, he cheated me out of being able to gripe about how awful men act when they're sick by being too sick to be awful. I really felt sorry for him, until I woke up this morning with a headache, backache, fever and nausea. He poisoned me with his illness, and I'm debating with myself about just pitching the death star of tequila drunks to destroy all the bad bugs, along with my stomach lining and possibly my self-esteem, or willing myself to fade off before the backache kills me.
The flu this year is nothing to mess around with. It's a respiratory flu, and it doesn't hesitate to use the volumes of mucus your body produces in efforts of drowning it, to give secondary bacterial infections nice, warm "snot-tubs" in which to prosper. Bronchitis, sinus and ear infections, along with full-blown pneumonia, are common secondaries with this year's strain of flu. The complication of fighting a bacterial infection while combating a viral flu is taxing on any human body, but if you have a depressed immune system, or aren't in decent physical shape to begin with, you could end up spending about a month of your life feeling pretty poorly, and another month recovering.
Flu shots, hand washing, and common sense are three things strongly suggested to avoid the plague this season. The St. Christopher Fund, along with sponsorship from OOIDA and NAIT, are offering free flu shots and shingles vaccinations for CDL holders at Kroger Little Clinics and Walgreens pharmacies. Some health insurances offer the same vaccinations at no charge — check your policy to verify.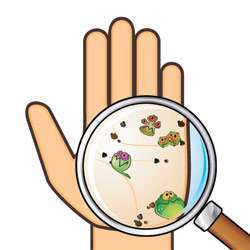 Hand washing is the most effective form of prevention there is. The simple act of running water over your hands while scrubbing with soap can effectively keep you from contracting the flu, along with all the other nasty viruses lurking out there. Wash your hands. Do it frequently. If you can't remember the last time you washed your hands, go do it now, Typhoid Mary. For heaven's sake, you'll kill us all.
Common sense dictates that you stay away from sick people if you can, keep your personal environment as clean as possible, support your immune system with good fuel, and remember to wash your hands.
Unfortunately, even being precautionary isn't enough sometimes. Chances are, if a close family member you happen to sleep with gets sick, you're probably going to as well. Being prepared by pushing fluids through your system, and loading up on zinc and Vitamin C may not keep you from contracting the grow-d-ness, but it will give your body a better platform to fight from and may lessen the chances of secondary infection. Also, remember to wash your hands.
So before I perish from the backache (which seems to be a common symptom reported with the flu this year, along with a headache that makes you want to pull your eyeballs out), I'd like to remind you all to wash your hands.
Did I mention the most effective form of combating the flu is washing your hands?