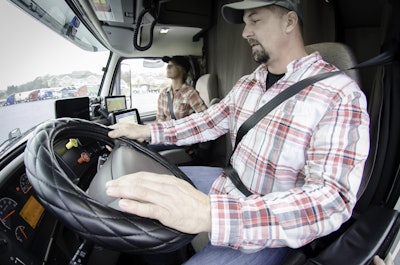 Four groups have joined in petitioning the Federal Motor Carrier Safety Administration to halt the implementation of its entry-level driver training rule until the agency restores the requirement that driver trainees perform 30 hours of behind-the-wheel training prior to receiving their CDL.
The Owner-Operator Independent Drivers Association and three self-described safety advocacy groups — The Advocates for Highway and Auto Safety, the Truck Safety Coalition and Citizens for Reliable and Safe Highways — filed the petition Dec. 21, two weeks to the day after FMCSA released its final entry-level driver training rule December 7.
The rule, which is scheduled to take effect in February 2020, sets a core classroom curriculum required for driver trainees and calls for FMCSA to establish a registry of driver trainers that CDL seekers must use for their training. The rule also requires behind-the-wheel training.
However, in a departure from its March 2016-issued proposed driver training rule, the agency no longer set a minimum number of hours of behind-the-wheel training new truck drivers must perform. Instead, the agency set a proficiency standard, to be determined by each trainee's trainer. FMCSA proposed a minimum of 30 hours behind-the-wheel training, split between course time and on-road time.
OOIDA and the other petitioners argue the removal of the 30-hour minimum disregards Congress' intentions for the rule and the consensus established during rulemaking negotiations between FMCSA and industry stakeholders.
"The 2016 Final Rule is not in the public interest because it does not advance safety beyond current practice in which any and all untrained CDL applicants can perform basic minor movements of CMVs and obtain a CDL without being exposed to the real-world experience of driving a CMV on public roads while receiving instruction from a qualified instructor," petitioners write.
OOIDA has long supported the establishment of an entry-level driver training rule, as have the other petitioning organizations. The American Trucking Association also supports the rule.