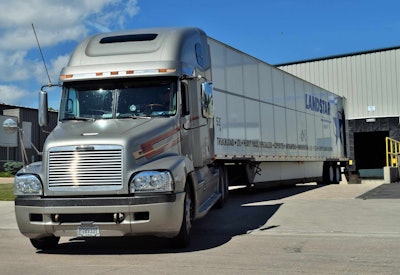 A lawsuit brought by several small business truckers against a defunct broker and its trust fund provider has fresh life following a successful appeal by the truckers involved and the Owner-Operator Independent Drivers Association, whose legal team is backing the truckers' suit.
A three-judge panel for an Arizona appellate court ruled Jan. 3 to partially reverse a lower court's ruling to dismiss the suit. The new ruling allows the owner-operator plaintiffs to continue to claims of breach of fiduciary duty and negligence, but it upholds the dismissal of their statutory claims.
Defendants in the case include broker Alliance Transportation and its trust fund provider Pacific Financial, who bore the responsibility of paying motor carriers for service when Alliance couldn't.
Plaintiffs include OOIDA and owner-operator carriers Tom Moore Transportation, Jasmine LLC and K&S Trucking. The group filed their suit in 2013, claiming Pacific Financial owed them unpaid invoices for loads and for breach of fiduciary duty, breach of good faith and fair dealing, negligence and more. The charges by the truckers stem from Pacific's alleged knowledge that claims against the trust fund, which is meant to pay carriers for their services if Alliance couldn't, had exceeded the fund's $10,000 balance. FMCSA required brokers to hold $10,000 in bonds or trust funds to pay carriers for services rendered at the time. FMCSA has since increased the requirement to $75,000.
An Arizona Superior Court ruled in 2014 that Arizona law backed the broker, who filed for bankruptcy in 2012, and Pacific, the trust fund provider. The court ruled Pacific's account did not, per Arizona law, qualify as a trust, therefore invalidating the truckers' arguments.
The appellate court in its Jan. 3 ruling, however, disagreed with the superior court, saying the agreement between the broker, the trust fund provider and motor carriers "meets all the elements of a trust," according to court documents. The fund was meant to ensure carriers receive payment, therefore creating a fiduciary duty by fund provider Pacific, the court ruled.
The appellate court's ruling isn't a judgement in favor of the truckers in the suit, but it does allow them and OOIDA to continue to pursue payment for services rendered.