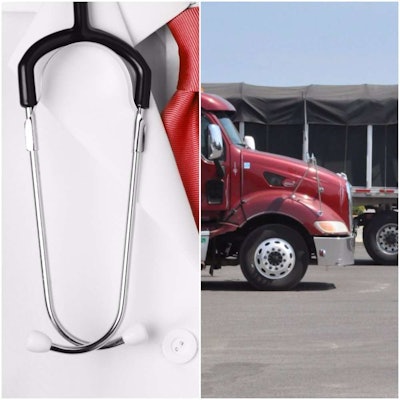 There's been a lot of news recently about truckers' hours of service regulations, and the ELD mandate looms near. Hours of service, and the order in which rest periods are considered "most beneficial," have been a hot topic since they started messing with them in 2013 — and long before that, too.
It's interesting to note that among some of the first data the FMCSA considered way back in 2013, nursing schedules and caps on hours (or the lack thereof) worked in a single shift were among them. It's also interesting that the Accreditation Council for Graduate Medical Education (ACGME) has recently announced they will extend the maximum number of hours a medical intern is allowed to work from 16, a rule which was implemented in 2011, to 28, as of July 1, 2017.
In an NPR article earlier this week, the ACGME announced the 2011 rule simply did not deliver on its promises, and caused new problems in the continuity of care with some patients.
"The Task Force [review panel] has determined that the hypothesized benefits associated with the changes made to first-year resident scheduled hours in 2011 have not been realized," the ACGME notes in its announcement of the rule changes, "and the disruption of team-based care and supervisory systems has had a significant negative impact on the professional education of the first-year resident, and effectiveness of care delivery of the team as a whole."
However, Dr. Michael Carome, director of Public Citizen's Health Research Group, says, "Study after study shows that sleep-deprived resident physicians are a danger to themselves, their patients and the public."
Sound familiar?
The ongoing debate about how long a human mind can function coherently enough to perform tasks considered to be potentially dangerous is not just a trucking thing. And while I have no personal knowledge of the FMCSA using or refuting these current arguments within the medical community, I have no doubt they will eventually be cited by someone in regards to the trucking hours of service.
I have personal experience with the medical end of this, and I have a dear friend who worked for 40 years as an Emergency Room physician, so I asked him to give me his thoughts, and personal experiences on restricting hours for interns. Dr. Phillip Maguire was kind enough to describe his first-year residency in detail, which pretty much involved being available for patient care every single day and night, in some capacity. Even his days off were not actually completely "off duty."
He goes on to say the remaining residency years were every third night, every third weekend. "Weekend call was tough. I remember one weekend on Pediatrics that I was ill all weekend. I remember one time on the Cardiac care unit when a nurse thanked me for an order I gave her for a Lidocaine drip for a dysrhythmia during the night. I had no memory of giving the verbal order. I was relieved that it was the right order."
Dr. Maguire finished out his career as an ER doc just this past year. He told me, "I also worked 12-hour ER shifts for 40 years. Both night (7 p.m.-7 a.m.) and day (7 a.m.-7 p.m.) with very irregular intervals, switching from days to nights and then nights back to days. I was never good at night shifts; I have a very strong biological clock. It got to a point about 10 years ago (when I was about 60) that I realized I was almost nonfunctional at about 5 a.m. on a night shift. I told my director he had two options: increase my malpractice insurance or give me only days."
In the end, there is no doubt how he feels about the issue: "I think the literature is clear: long hours, especially at night, increases mistakes. I have been fortunate not to have made many."
My own personal experiences include being mandated for nursing shifts when no one else would show up for work, and being always considerate of the abandonment laws I took an oath to abide by when I got my license. Again, the parallels between trucking and the medical community here are striking, in that labor laws and malpractice laws don't always coincide. You can be sued for leaving a patient without proper care, and the court gets to determine what proper care is when you're sued.
Same in trucking. You can be ticketed or fined or towed for parking a vehicle when you're out of hours. But I believe the point needs to made here that a truck can indeed be parked, and stopped. The care of an individual who is ill and unable to care for themselves never stops. I can also say there is generally a team of individuals within that situation, and they're there as a team to safeguard the patient and make sure the care is correct.
Which brings up continuity of care, the issue the ACGME is putting forth as an obstacle for restricting intern hours.
As a nurse, I can tell you there is nothing more important as continuity of care. You can read a chart about a new patient six hundred times, but if you haven't seen that person in the real human form, mistakes will be made. I'm not even going to say they "can" be made, I'm saying with full certainty they will be made. You cannot simply hand off a head injury because your hours are up. It just doesn't work that way. I've personally stayed over more hours than I care to count because of falls or injuries or other emergent situations I had no control over.
Here's where both industries could benefit with flexibility and the ability to trust the professional to know their limits. First and foremost, an intern in an emergent situation they can't leave will almost always have an attending doc. Natural disaster is pretty much the only reason I can imagine a hospital wouldn't cover their butts with one these days. So don't go to the ER terrified a sleep-deprived youngling is going to kill you. It's very unlikely. The interns usually have rest areas, just like truckers.
By the same turn, the professional driver should be afforded the same respect in regards to their physical limits, and given the flexibility to control their hours of service to not only the maximum safety level, but to have the personal safety net of being able to manipulate those hours as they see fit for their biological clock.
The fact remains that none of the issues regarding sleep-deprived safety will be solved with a one-size-fits-all rule, in any industry, as long as human beings are doing the jobs.