Holy jeebus, it's MATS 2017 week already.
This week kicks off the 2017 truck show season in Louisville, and the Kentucky Convention Center will be rockin' Thursday, Friday and Saturday. All the big boys are back, with displays that promise to be bigger and better than ever.
This will be our 5th year at MATS, and we are really looking forward to seeing our buddy Tony Justice on the big stage, opening for Thompson Square at the free Friday night concert. It's been such a treat to follow Tony's career. We met him at our first MATS and have had the pleasure of becoming friends with he and Misty, as well as big fans of his music. It's wonderful watching friends succeed and reach their goals and dreams. Congratulations, Tony!
Speaking of wonderful friends, we're also looking forward to seeing ol' Bill Weaver perform new songs from his EP, "Burnin' Down the Old School." The three-song download, sponsored by Tough Tested, was recently recorded and will be released at MATS. Bill will be performing live from the Tough Tested booth #69097 Thursday 3/23, from 3:00-3:45 p.m. and at the Red Eye Radio booth 4 p.m. the same day. If you miss the performances Thursday, never fear. Bill will be playing the Red Eye Radio concert at 1 p.m. on Friday, and 8:45 a.m. Saturday morning.
Bill's gonna be busy, and so are we. We'll be doing a social media takeover for Tough Tested, and while I'm not entirely sure what that means, I do know we'll have tons of video and pics from the show to share with those who can't make it out.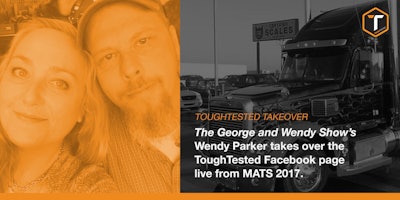 Oh yeah, and I may or may not have books to give away. Eeeep.
You can follow along on our Facebook page, or Twitter, or Instagram, or the Tough Tested Facebook page. As always, Overdrive will have full coverage of the show. We'd like to hear what you want to see – post in the comments and we'll do our best to get it all covered.
Let the show season begin!