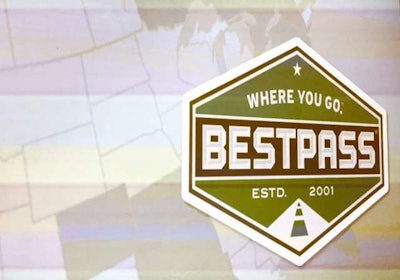 Bestpass' new Leased Equipment Toll Solution (LETS) is a toll-management service for leased equipment providers, not only tractors and trailers but other vehicles of all shapes and sizes.
Bestpass, known for enabling volume discounts for fleets and owner-operators through group buying power on tolls around the nation, launched the new solution to engage what it calls a sizable new market with often sizable headaches around toll billing. The company called LETS the first solution of its kind, including features such as seamless rebilling from lessor to lessee, the ability to transfer toll transponders from leased provider to customer accounts and back again. Providers can also customize and white-label the Bestpass service.
Noted John Andrews, president and CEO of Bestpass, "Our solution puts a Bestpass transponder in their vehicles," removing the chance for violation, and the company has "provided them with a way to bill it back to their customer" with software that comes along with the service. All told, "it takes a lot of angst out of the system," likewise for the various tolling authorities around the nation.
And for Bestpass's trucking customers, they have the option to seamlessly transfer transponders in their leased vehicles to their Bestpass accounts for the duration of the lease, ensuring full volume discounts and further simplifying toll tracking and management, allowing the customer to retain their regular Bestpass discounts, account fees and features. All LETS customers will have access to national toll coverage via Bestpass, including 100 percent of the major U.S. toll roads and more than 40 tolling groups.
LETS has been in testing with a national lease-service provider Andrews declined to name. An announcement will follow shortly, he said.
Toll coverage continues expanding
Bestpass has solved automatic toll-collection coverage, Andrews also noted, with a nearly comprehensive solution incorporating toll authorities all around the nation. However, a few stragglers were still coming online through North America over the next year or two. Soon, the Mackinac Bridge in Michigan will be added, likewise, "tolls in Louisiana and the bridges between the U.S. and Canada and Mexico," Andrews said. By 2018, "we will have the whole footprint of trucking under the network."