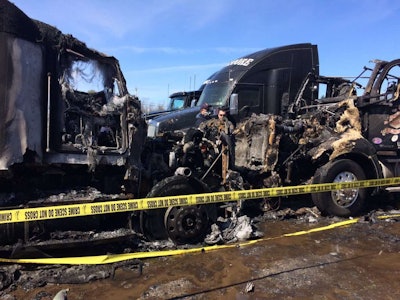 Arsonists targeted tractor-trailers over the weekend in Maine and Oklahoma, burning a total of nine trucks between the separate incidents, according to local media reports. Also, as many as 30 trucks were destroyed in a separate warehouse fire in Miami on Monday.
No arrests have been made, nor have suspects been identified.
According to Maine's WMTW.com, coordinated arson occurred at two R.C. Moore trucking terminals in Scarborough and Poland Sunday night. Four trucks were burned at each location, totaling approximately $1 million in damage, according to the report.
The report states the trucks were parked nose-to-nose, and firefighters were able to stop the fires from spreading to other trucks.
The calls came in three minutes apart last night between the Scarborough and Poland. pic.twitter.com/prCsi5i4y0

— Kyle Jones (@KyleWMTW) April 3, 2017
In Tulsa, Okla., on Saturday, a truck was reportedly destroyed by an arsonist at Jay Rambo Co. A report by Fox 23 says the driver of the truck reported someone setting the truck on fire, then coming back and breaking the windows out of several other trucks.
On Monday, an explosion and fire at American Fruit & Produce in Miami burned approximately 30 trucks, according to news station Local 10. The cause of the explosions is still under investigation, the report states.