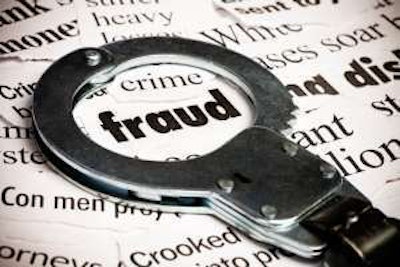 Activity in four trucking-related criminal cases involving false medical certifications, a CDL fraud scheme, the illegal transportation of hazmat and conspiracy to violate safety regulations was recently announced by the Department of Transportations Office of Inspector General.
On April 20, a Missouri man was charged and pleaded guilty to making false statements and healthcare fraud related to fraudulent medical exams for truckers.
David Biersmith, the owner and president of Industrial Medical Center (IMC) in Independence, Mo., allegedly did not have a medical license or any other medical credentials, but signed the name of a legitimate chiropractor without permission on medical exam reports and certificates for at least 65 truckers between August 2013 and December 2013.
Two former Detroit Department of Transportation employees were sentenced May 3 for their involvement in a CDL fraud scheme. Calvin Foulks and Michelle Reed were each sentenced to one year of probation, while Foulks was ordered to pay $1,000 in restitution and Reed was ordered to pay $625.
The pair allegedly accepted more than $4,000 in cash bribes in return for falsifying Michigan Department of State documents stating that applicants had taken and passed the CDL skills test when they actually had not. As a result of the investigation, 85 CDL tests were invalidated, and the drivers were required to retest for their licenses.
Roy Maynard Jr. of Reeds, Mo., was indicted May 11 on charges related to the illegal transportation of hazardous materials.
Maynard allegedly transported liquefied petroleum gas without a CDL to customers in Kansas, Oklahoma, Arkansas and Missouri. Liquefied petroleum is classified by the DOT as a flammable gas and is subject to hazmat regulations. The indictment also alleges Maynard transported the hazardous materials without hazmat placards or shipping papers.
Finally, a Mt. Crawford, Va., trucking company that formerly hauled U.S. mail, along with four of the company's officers, pleaded guilty May 16 to federal conspiracy charges.
Beam Brothers, the trucking company, pleaded guilty to conspiracy to commit an offense against the United States, while the parent company, Beam Brothers Holding, pleaded guilty to conspiracy to commit wire fraud. OIG says BBT is one of the nation's largest contract carriers of mail for the USPS.
As part of the plea, Beam Brothers agreed to pay $1 million in restitution to drivers who were defrauded of their pay, a $250,000 fine and forfeit $2 million of fraudulently obtained payments.
The companies allegedly violated FMCSA safety regulations intentionally by encouraging, permitting, causing or requiring their drivers to falsify their logs and time sheets so they would not be paid for rest periods and detention time. The companies also allegedly failed to tell its drivers of pay requirements of the mail contracts, failed to review and consider some drivers' requests for additional pay and failed to pay some drivers as required by the federal Service Contract Act, the Fair Labor Standards Act and the mail contracts.
The four most senior officers in the companies – Gerald Beam, Garland Beam, Shaun Beam and Nickolas Kozel – each pleaded guilty to knowingly violating FMCSA safety regulations.