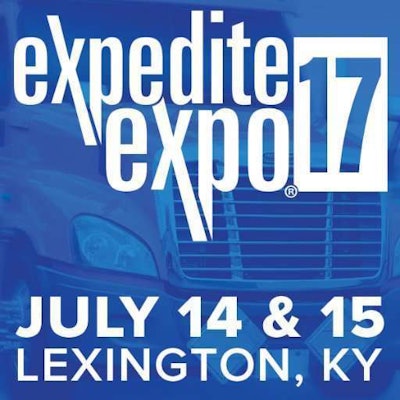 Drivers, owner-operators and fleet owners all are part of the target audience for the long-running Expedite Expo show, whose 2017 edition is taking place July 14-15 in Lexington, Ky., at the Lexington Center.
Launched in 2001, the show continues to be "the only trade event focused exclusively on the expedited trucking industry," conference organizers note. Attracting attendees and exhibitors across North America, it's also anchored by an educational program that this year includes 14 workshops. Topics explored include the basic, including in an "ABCs of Expedited Driving" session, to the more advanced — a risk-reward look at hauling Department of Defense freight for owner-operators is scheduled for the first day of the expo.
With workshops occurring each morning, spend the afternoons networking and learning on the show floor, where some of the top trucking companies in North America are exhibiting. Representatives of these companies will be on site to hire owner-operators and company drivers for expedite, truckload, LTL, flatbed, tankers, moving vans and refrigerated operations, show organizers note.
Plenty of leisure activities include the annual ExpeditersOnline.com Drivers' BBQ on the 15th as well as black jack, roulette, craps and Texas hold 'em gaming "all on the house" for Casino Night Friday. Attendees can also enjoy acres of free parking with plenty of space to gather, network and share stories.
For more information and to register, free, visit the show website or call 859-746-2046.