Today on Truckamundo, George gets news from a surgeon that he can either take three weeks off to have his hernia repaired, or plan on wearing his guts for shoelaces at any inopportune and unplanned moment in the near future.
We join the scene as Doc McGutsnatcher delivers the diagnosis: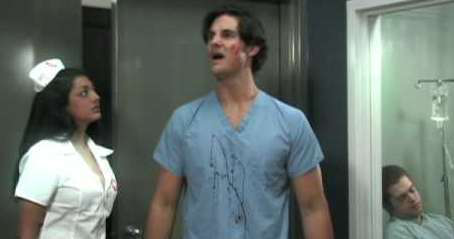 "Holy gee that's a big hernia! Is that a foot sticking out of it? I think it just growled at me. Yeah, that thing needs to be hitched up right away, Mr. Parker. I'll arrange surgery for Tuesday morning."
"Tuesday? Wait a minute, that's tomorrow, I've got work lined up. I need to make plans for this."
"You better plan to have someone clean your intestines up off the floor if you don't get this thing fixed. If it gets any bigger, I'll have to issue a birth certificate."
(Cue the dramatic "dahn dahn daaaah" music and overlay narration as camera pans between the hideous disfigurement under George's t-shirt, Doc McGutsnatcher's 'I play a doctor on TV' face, a nurse with big boobs who has nothing to do with the scene, but boobs sell advertising spots, and George's expression of dread and concern.)
What will George do? Can he risk wearing his bowel tract on the outside of his body, just to make the next trip? Or will he take three weeks off work and spend every waking moment worried about money he's missing? Stay tuned for startling story twists, and possibly more gratuitous boob shots.
(End scene, cue abundant commercial information about drugs that have side effects worse than anything they cure, follow up with abundant commercial information about lawyers who sue drug companies.)
Next up on Truckamundo we visit the ever-changing Virtual Counter of Knowledge, also known as YouTube Trucking Days of Our Lives. We left off with Trucker Pete publicly calling Trucker Repeat out for being fake and allowing his mother to dress him funny. We'll join up with Trucker Repeat for his vapid response of, 'I know you are but what am I?' right after this commercial break.
(Cue excruciatingly sad dog rescue video, complete with Sarah McLachlan crooning and crying, while holding an injured pit bull. Follow up with commercial advertising lawyers who specialize in dog bites, specifically pit bulls.)
Stay tuned for more riveting entertainment, right here, on Truckamundo …
(Before anyone gets their feelings hurt, remember, it's an attempt at satire, and I make fun of myself just as much as anyone else. Also, I have to give credit to Wendy Lawson for naming the "Virtual Counter of Knowledge," it was too good to leave on a Facebook comment. ~W)