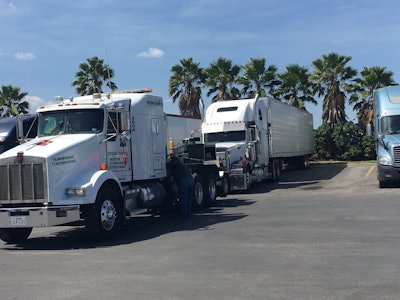 18 wheeler where 17 immigrants were found locked inside is currently being towed away from Flying J @kgbt pic.twitter.com/BjAstimAxQ

— Priscilla Estrada (@PriscillaKGBT) August 13, 2017
A phone call likely saved the lives of 17 migrants who were found Sunday locked inside a hot tractor-trailer parked at a Flying J Travel Plaza in Edinburg, Texas.
Edinburg police say they found out about the truck from a person in Mexico who said a relative had called and complained about being trapped inside the trailer where temperatures were on the rise.
Police found 14 men and three women inside all of whom were alive. Their countries of origin include Mexico, Guatemala, Honduras and Romania.
Police arrested two Cuban nationals who were responsible for the truck, according to wreg.com. Edinburg is about 40 miles northwest of Brownsville near the Mexico border.
Last month, ten undocumented immigrants died after being discovered in the back of a semi at a San Antonio Walmart. The driver of the truck was arrested and faces charges that could result in the death penalty if convicted.