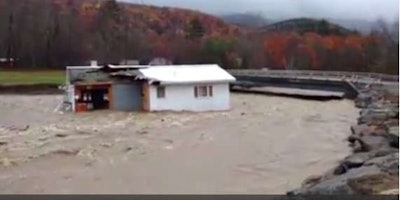 The New Hampshire Department of Public Safety has issued an emergency declaration in the state due to a heavy wind and rain storm, prompting a suspension of hours-of-service rules for truckers hauling certain commodities to the state.
The emergency declaration states an emergency exists pertaining to the delivery of propane, natural gas, fuel oil, gasoline and food, as well as for the repair of utility outages. Truckers hauling any of these commodities to homes or businesses are exempt from federal hours-of-service regulations through Thursday, Nov. 2.
Drivers who utilize the exemption can come back into compliance and restart their HOS clock by taking a 34-hour break at the end of their extended hours period, the declaration states.
Video: House washed away by New Hampshire river after storm https://t.co/cx7mBLen5d pic.twitter.com/xnvcFxv9Vz

— Steve Annear (@steveannear) October 30, 2017