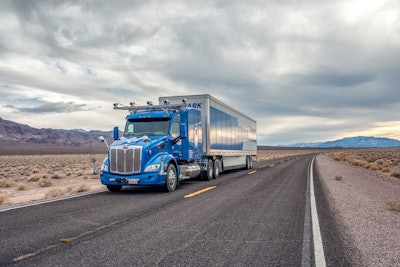 Embark Trucks announced this week that its self-driving tractor-trailer has become the first autonomous truck to travel across the U.S.
The 2,400-mile journey across I-10 began in Los Angeles last week and finished five days later in Jacksonville, Fla. A professional driver sat at the wheel of the retrofitted Peterbilt ready to assume control if necessary.
Late last year, Embark claimed the longest self-driving truck route in the world following a partnership with Ryder and Electrolux in which it agreed to haul appliances from L.A. to El Paso. This latest trip is four times longer.
"When we announced our Los Angeles to El Paso route we promised that was the just first stage of a much larger expansion," Embark CEO Alex Rodrigues said.
Another Embark goal includes making the cross-country trip across the U.S. in two days instead of five. Current federal regulations restrict most trucks to 11 hours of travel per driver per day.
Making its self-driving system even more efficient, Embark reports, is a machine learning approach to automation which reconstructs a model of the world using only its sensors in real time. Labor-intensive and costly pre-mapping, which Embark says is a limitation for Waymo, Cruise and Uber, is not required.
However, drivers are still required in all autonomous semis, and in the case of Embark's truck, it's not clear if the driver ever had to take control of the truck during its cross-country trip. That question along with others pertaining to the record-setting truck were left unanswered by Embark Chief Operating Officer Mike Reid.
Reid did answer a question by email about drivers.
"Embark's automated trucks still have a professional driver sitting at the wheel actively monitoring the road, supervising the system, and ready to take control at any time. They can take over control by turning the wheel, applying the brake or throttle. These systems are still very new, and safety remains a top priority for us," Reid wrote.