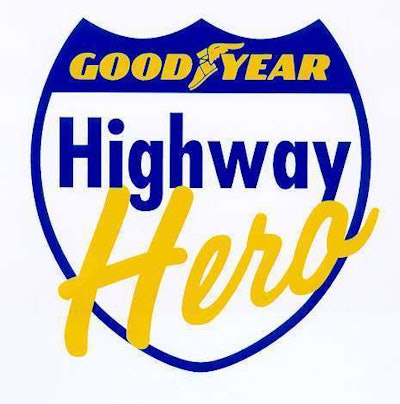 Three truckers are being recognized by Goodyear for performing heroic acts in the course of their daily driving jobs over the past year.
The three drivers – Brian Bucenell of Richmond, Va.; Ryan Moody of Tacoma, Wash.; and Frank Vieira of Ancaster, Ontario, Canada – have been named finalists for Goodyear's annual Highway Hero award.
The winner of the 35th Goodyear Highway Hero award will be named Thursday, March 22 at the Mid-America Trucking Show in Louisville, Ky., and will receive a special ring, a cash award and a congratulatory trophy. Each of the other finalists will receive a cash prize and other items.
Bucenell is being recognized after he helped police end a high-speed chase. After merging onto the Ohio Turnpike near Toledo and hearing over his CB about a police chase near his location, he saw a group of state troopers chasing a car in his mirrors. He was coming up on a construction zone that took the highway from three lanes down to two. Once in the construction zone, he was able to sandwich the car against the guardrail, giving troopers the chance to catch up. Police arrested the car's driver and passengers, who were later charged with motor vehicle theft.
Moody was driving in Chicago when a motorcyclist swerved and crashed in front of his truck. He was able to avoid hitting the unconscious motorcyclist, who was bleeding from a head injury, and positioned his truck to protect the man from other vehicles. Moody wrapped his shirt around the injured man's head to slow down blood loss and stayed with him until paramedics arrived. He was credited by the paramedics for saving the man's life.
Vieira was driving near Toronto when he heard a loud crash and noticed a car on the other side of the road had slammed into the back of a parked roll-off truck. Vieira parked his truck and ran to the car, where he found the driver's neck pierced by a piece of his own steering wheel. He placed one of his hands over the driver's wound and applied pressure while calling emergency personnel. The driver of the parked truck walked to the car to see the damage and immediately fainted. While continuing to apply pressure, Vieira used his foot to pull the leg of the driver who fainted away from traffic. Emergency personnel arrived and transported both men, who survived, to the hospital.
Last year, trucker David Webb won the award for helping another trucker who was having a heart attack on the road.