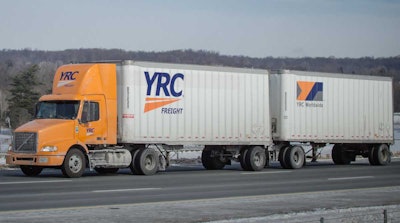 YRC Freight driver Bobby Elrod has reached five million consecutive miles without any accidents. Elrod, from Chickamauga, Georgia, has been trucking for 45 years and averages 2,000 miles a week. He will be inducted into YRC Freight's five million-miler Hall of Fame and will be recognized March 6 at the company's Chattanooga terminal.
To honor Elrod's accomplishment, YRC Freight is going to donate 50 children's car seats to the Tennessee Highway Patrol, equaling one for every 100,000 miles Elrod has driven without an accident. The company is also introducing a new trailer wrap in his honor. He will receive a celebratory watch, die cast YRC Freight truck, plaque and a commemorative jacket.
Elrod's dad, two uncles, brother and brother-in-law were all truck drivers. He says trucking is in his blood.
"I was only nine or ten when my dad passed away. Not that long ago, I went out to the cemetery. I told my dad, 'I've reached five million miles without an accident, Dad. Can you imagine?' It was a good moment. I've been blessed," Elrod said.