The anchor piece in this series on truck purchasing: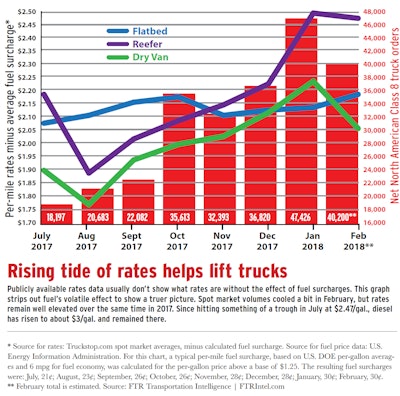 As freight rates have climbed significantly, combined with tax windfalls for truck buyers and new productivity pressures with electronic logging devices, truck orders have followed. Monthly new-truck orders in North America have more than doubled since July, according to FTR Transportation Intelligence.
It's not just large fleets making plays to expand, either. "When orders are this large, fleets of all sizes are ordering and ordering out for several months," says Don Ake, FTR Commercial Vehicles vice president. "The orders in February were boosted by more small fleets ordering, since these orders tend to lag the large fleets who have ordered previously."
New trucks, he adds, seem to have better sales momentum at present than those in the used market.
Freight growth and reduced productivity as a result of the ELD mandate are driving the boosted order activity – and rate growth. Dry van rates over the July-to-January period were up by 20 percent, more than any other segment, before cooling off in February. Separate out fuel's effect, the underlying rate was still up almost 18 percent over the entire period, while reefer linehaul rates were up 13 percent.
Independent flatbedders using brokerages appear to have benefited the least among the segments in rates per mile over the period of mandated ELD implementation, a significant driver of the increases, many watchers believe. Flatbed underlying rates, minus the calculated surcharge, rose just 11 cents per mile in the period shown, from $2.08 to $2.19.
Flatbedders leased to carriers, with some own-authority independents mixed in, have been doing well as the economy has improved over the last year, as shown in 2017 income numbers from ATBS clients reported in February.