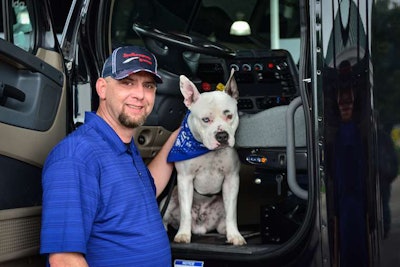 Progressive Commercial's Keys to Progress program gave James Rogers a fully updated 2015 Freightliner Cascadia last weekend.
Rogers, from Pevely, Missouri, received the truck at an event in Houston. The Keys to Progress program has donated over 500 vehicles to veterans and veterans organizations, but this was Progressive Commercial's first time to give away a Class 8 tractor. Vehicle awards are based on nominations of worthy recipients.
Progressive also helped set Rogers up with his own authority, so he is now a small-business owner. He also received a $3,000 check at the event. Before being gifted the truck he was a driver at Prime Inc., a Springfield, Missouri-based fleet.
"It's going to allow me to accomplish my dreams of being a small business owner and financial independence. It's also going to set it up for generations to come for my family, but the biggest thing is it's going to allow me to do the other part of that dream which is to help others," Rogers said about receiving the truck.
Now that he has his own authority, Rogers wants to build his business, employ other veterans and "possibly change somebody else's life," he said. "I don't look at this as just about me."
Rogers served in the U.S. Army for 11 years and reached the rank of staff sergeant before retiring, due to an injury, and becoming a truck driver. "While I was in the military, that was my biggest motivation, to know that I'm serving and doing something that is bigger than myself. It will always be bigger than me but somewhere I'm playing a small little piece," Rogers said.
His new business, Spartan Direct LLC, is named after the last group of soldiers he served with. They called themselves the Spartans and were a hand-picked team of specialists.
"We served with a passion. We served with a direction. We served with a goal. I just wanted to carry that mentality with me," Rogers said.
Military service taught Rogers discipline that has helped him in his trucking career, and trucking has helped him experience the country he served to protect.
"You get to get out here and see the people that don't really get to see behind the scenes or the stuff that we see as veterans. You really fully appreciate what you're out there serving for and what you're defending," Rogers said.