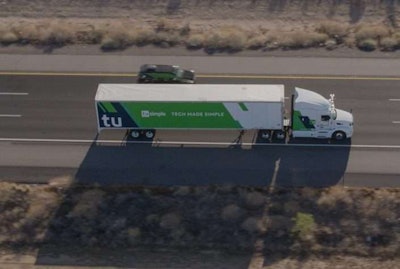 TuSimple, a 30-month-old San Diego-based autonomous truck startup, says it is currently testing three Class 8 Peterbilt trucks in Arizona and has already achieved more than 15,000 Level 4 autonomous test miles using its computer vision system.
Level 4 autonomy (on a scale of 1 to 5) doesn't require any action by a human driver and is widely considered the first level of "fully autonomous" driving.
Chuck Price, TuSimple vice president of product, says the company's advanced vision system uses up to ten cameras in conjunction with sensors, GPS, three millimeter wave radar units and automated HD mapping to achieve a sensing range of up to 300 meters – three-times the range of standard LiDAR. LiDAR is the key autonomous tech used by prominent autonomous developers like Google's Waymo.
With high-precision visual positioning and multi-sensor fusion, Price says the company's test trucks achieve consistent decimeter-level localization, even in tunnels.
Price says the truck can "see" to within four inches on the road and 360 degrees around the truck while its HD mapping provides precise lane-level information.
The company's goal, Price says, is to deploy a system that allows fleets to travel autonomously dock-to-dock, bypassing needing a driver – either in-cab or remotely – to pilot the truck on any stretch of its route.
"Our Level 4 system is fully automous end-to-end," Price says. However, since regulations in most states require a person in the cab, TuSimple deploys a driver with its units.
Later this year, Price says TuSimple will begin hauling freight with a fleet of 25 trucks through its shipper partners, allowing the company to develop a real-world testing platform.
"We will be generating revenue, hauling freight, with the retrofit autonomous vehicle by the end of this year," he says. "Our goal is to provide as reliable a service in delivery as compared to today."
The TuSimple platform is also designed to detect faults – like low tire pressure or temperature warnings – and pull itself over before signaling a designated resource for help.
TuSimple says it has already broken autonomous driving world records for object detection, object tracking and road segmentation.