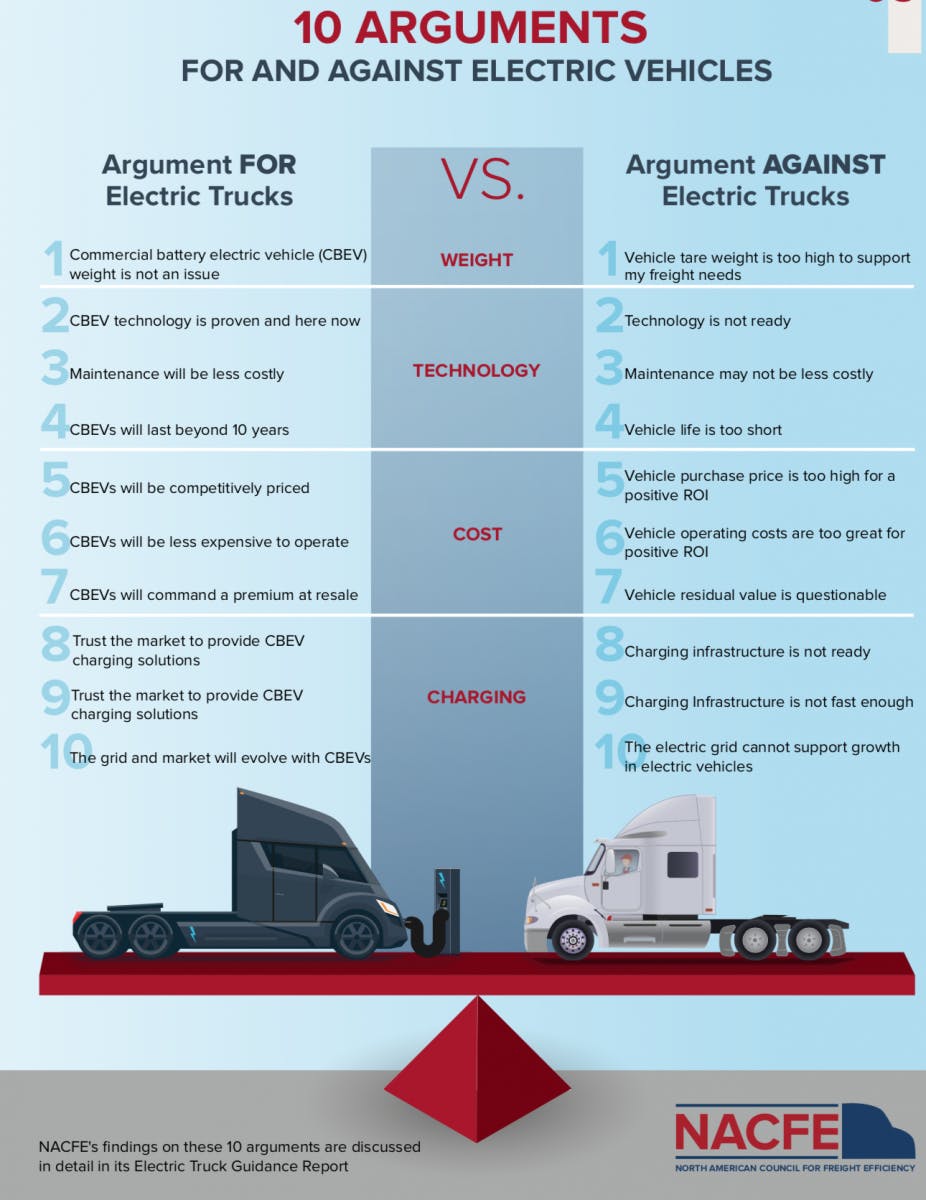 The North American Council on Freight Efficiency on Tuesday outlined 10 arguments for and against the viability of electric trucks. Through nearly 120 pages, Electric Trucks: Where they Make Sense offers up analysis on topics that matter most in electric-vehicle (EV) selection, including grid readiness and market penetration realities.
Among arguments in electric vehicles' favor, NACFE pointed to potentially cheaper maintenance costs, lower cost of operation due to cheaper fuel, potential strong vehicle resale values and "trust" that the market will solve the issue of charging and grid infrastructure needs. Highlighting the cons are vehicle life and upfront costs, lack of charging infrastructure and lack of grid readiness for deployment of the  vehicles. See the full list of arguments for and against in the infographic above.
Overdrive examined these issues in-depth last month. Read the full Power Shift series at this link. 
NACFE's report explores issues like battery weight, range, vehicle weight, fluid weight, charging speeds, infrastructure and electricity pricing to reach a punch list of pros and cons for electric vehicles as the market stands today.
"One of the things we found more recently is that the acceptance of change is changing pretty rapidly," said Rick Mihelic, NACFE program manager. "We remark that you used to talk to someone about tires and they would spend three years studying a tire in small lots before they would invest in something new, and now they're talking about new technologies and just kind of giving it a blank check and saying, 'Yes, we'll invest in that Tesla. We'll put deposits on that Tesla.' There are some changes going on in the industry and the mentality of it."
As battery prices continue to drop, range increases, and charge times drop, NACFE views Class 3-Class 8 vehicle electrification as a more viable option.
–Tom Quimbly
—
Nikola claims in lawsuit that Tesla violated design patents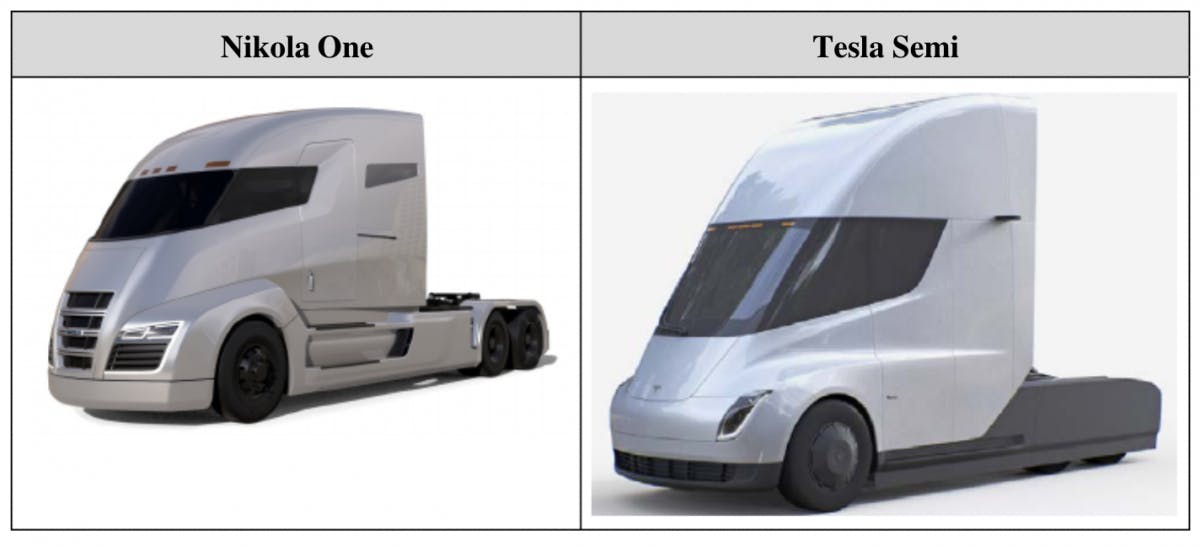 In other electric truck news, Nikola Motor Company filed a lawsuit Tuesday against Tesla Inc., alleging the electric-car company infringed on several of its Class 8 truck design patents.
The hydrogen-electric truck startup claims Tesla's Semi – set for production next year – violates Nikola patents for the truck's fuselage design, mid-entry door and wrap-around windshield.
"The Tesla Semi design is substantially similar to Nikola's unique design, and Tesla copied Nikola's patents," the filing claims.
A spokesperson for Tesla called the allegations meritless.
Supporting its claims that the two truck's designs are remarkably similar, Nikola pointed out the aerodynamic drag coefficient of both tractors is almost the same. The Tesla Semi claims a drag coefficient of 0.36, while Nikola One claims a drag coefficient of 0.37.
Nikola claims its has suffered damages of more than $2 billion by the alleged infringement, which it claims "has harmed Nikola's plans by causing confusion in the market…. The confusion has diverted sales from Nikola to Tesla." Further, the suit claims, "Tesla's infringement has harmed Nikola's ability to attract investors and partners because investors can now partner with Tesla to have an alternative fuel semi-truck."
When a spy photo of the Tesla Semi hit the Internet last year about a month ahead of its official debut, Nikola claims it sent a letter to Tesla notifying the company of Nikola's pending patent applications and its belief that the electric Semi would infringe on those patents, "and demanded that Tesla refrain from unveiling its Semi," the filing says.
The suit requests a jury trial.
Nikola debuted its Nikola One tractor in Salt Lake City in December 2016, almost a year before Tesla showcased its electric Semi in Hawthorne, Calif.
–Jason Cannon