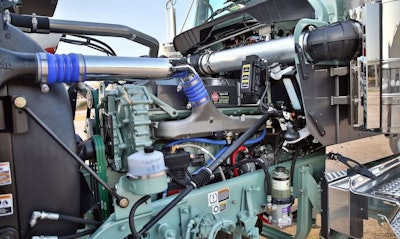 A rule in the works by the Environmental Protection Agency to unwind emissions regulations placed on glider kit trucks in 2016 could be finalized as soon as this month, according to a semi-annual regulatory report issued by federal agencies.
However, the rule would need to set a brisk pace to meet the May 2018 projection listed by the EPA for its publication; it may not come to fruition until next month, if not later. The rule must still be sent from the EPA to the White House's Office of Management and Budget for approval. Once approved by the OMB, which could take weeks, or even months, the rule can then be published in the Federal Register by the EPA, and will subsequently take effect.
Once enacted, the rule will repeal emissions restrictions placed on glider kit trucks by the Obama Administration's sweeping Phase 2 emissions rule. Makers of glider trucks (new truck bodies and chassis equipped with older engines and transmissions) would have been capped at producing 300 kits a year, beginning this year. Glider kit builders like Fitzgerald Glider Kits and Harrison Truck Centers produce thousands of glider trucks a year, meaning they would have had to drastically alter their operations to continue to sell trucks or face losing the lion's share of their annual business.
The EPA began work in late 2017 to rescind those restrictions, however, and allow glider kit builders to continue to manufacture as many kits as they wanted. Demand for such vehicles, which are usually equipped with engines manufactured prior to when 2007 emissions regs took affect (i.e., before the advent of high levels of exhaust gas recirculation and exhaust aftertreament systems), has soared in recent years, especially among owner-operators.
Glider kit sales totaled around 1,000 in 2007. By 2016, about 10,000 glider kits were built and sold. That growth caught the eye of federal regulators working on the trucking-focused Phase 2 emissions rule, and they sought to nip the glider industry's growth. EPA officials told Overdrive in 2016 that glider kits increasingly accounted for trucking industry emissions of tailpipe pollutants like greenhouse gases and oxides of nitrogen (NOx).
The glider kit industry, in part led by Fitzgerald (the country's largest glider kit supplier), fought the regs, arguing they would kill their business. They also contended that emissions from glider kit vehicles weren't as disproportionately dispersed as the EPA made them out to be.
The regulatory-leery Trump Administration took on Fitzgerald's pleas last year after Trump took office. After initially signaling it intended to reevaluate the glider regs, the EPA proceeded with a proposal to rescind the glider-specific portions of the Phase 2 rule. It published its proposal last August. Until the agency acts, glider kit makers are caught in a regulatory limbo, as current law still states they can only produce 300 kits this year.