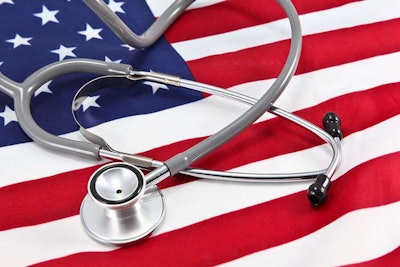 The U.S. Department of Transportation will soon make it easier for Department of Veterans Affairs medical examiners to be listed on the National Registry of Certified Medical Examiners, the list of examiners from which truck drivers must receive their DOT physicals.
Examiners from the VA were always allowed to be listed on the examiners registry, but the new rule allows VA examiners to complete the certification process entirely online, making it easier for them to enter the registry and begin performing DOT physicals.
Of note, the rule comes amid an ongoing outage of the web portal for the National Registry of Certified Medical Examiners. The site has been down since December, operating on limited functionality since March. The U.S. DOT has not said when the registry will return to full functionality. The site was pulled offline after hackers attempted to plant malicious software in the system. It's unclear how the outage will affect the agency's new rule.
The 2015-enacted FAST Act highway bill and January's Jobs for Our Heroes Act required the Federal Motor Carrier Safety Administration to find an "alternative process for qualified VA examiners to be listed." Such qualified examiners include advanced practice nurses, chiropractors, doctors of medicine and osteopathy, physician assistants and other medical professionals employed by the VA.
The rule, finalized June 11, allows qualified VA examiners, beginning Aug. 10, to complete training and pass a test provided by FMCSA and administered through an online training system operated by the VA in order to become certified examiners listed on the Registry. Regulations currently require examiners to complete training in person or online and pass a test administered at an FMCSA-approved testing center.
Qualified VA examiners must be licensed, certified or registered in their respective state to perform physical exams, must be familiar with CDL medical standards and must never have been found to have fraudulently awarded a medical certificate.
Certified VA medical examiners will only be allowed to conduct medical exams and issue Medical Examiner's Certificates to truckers who are military veterans enrolled in the VA healthcare system. FMCSA says the rule will reduce costs for VA examiners to be listed on the Registry.